pursuits
To Help Emerging Artists, Let Collectors Resell Their Work
By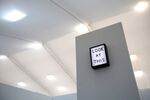 The art market is hot again, even for emerging artists—the typically hard-to-price, who-knows-where-this-is-headed group of young, living creators. At Phillips's last Under the Influence auction, almost all of the work sold, much of it for double the estimated price or higher. This and other sales have generated reports of overheating, irrational exuberance due for a correction. Like some of the art market itself, such reports may be victims of their own hype.
Art is a risky investment: Given that value is subjective and vulnerable to fads and price manipulation, there's a real chance collectors won't be able to resell artwork for the price they paid. When a market functions well, pricing is transparent and goods go to the highest bidder. But that's rarely the case for art, especially for young, living artists, whose work is most commonly sold through galleries rather than at auction.
Selling through galleries gives dealers the power to manipulate the market by hand-selecting buyers and keeping prices secret. If a collector buys a work from a gallery only to turn around and sell it at auction, the gallery might never sell to him again. Dealers often justify the manipulation by arguing they need to protect young artists' careers from the whims of an unstable market. There is some truth to this—the market is unstable. But it's not clear whether dealers need to fix prices because the market is fragile, or the other way around.
There's one way to find out: Let more sales go to auction. "The negative idea of flipping is wrong," says Thomas Galbraith of online auction house Paddle 8:
A better-functioning, transparent market would stand to benefit all involved. Artists and dealers would have a better understanding of demand and be better placed to gain from secondary-market price increases more quickly by amending pricing accordingly. Buyers are safer in the knowledge that they're paying the right price, more easily verifiable.

Many disagree that this would help the art market or artists. I believe that these price fluctuations are happening anyway, whether people like it or not. Therefore more transparency will at least provide all involved with a better understanding of why something is happening/moving and allow an opportunity to react accordingly.
As a managing director at an auction house, Galbraith clearly has a vested interest. He may also be right. Despite dealers' efforts to steady the market, liquidity for emerging artists follows a cyclical pattern. The figure below (PDF), provided by Fabian Bocart of Belgian-based consultancy Tutela Capital, plots the average number of years collectors own work by artists under age 40.

The longer they hold, the less liquid the market, and the data suggest they are still holding on. In his analysis, Bocart reckons the market is ripe for change. "During the financial crisis, galleries and young artists went bankrupt so it created a void in the market in this segment [young artists] that is now being refilled," he says. "There is a feeling that the next 'big thing' is coming."
Before it's here, it's on the Bloomberg Terminal.
LEARN MORE