South Korea May Catch Japan's Economic Cold
With low growth at home, the chaebol are investing abroad
by and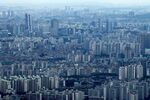 South Korea is becoming more like Japan, and not in a good way. After years of strong economic growth driven by exports of high-end electronics and cars, the country is edging closer to the deflationary, low-growth trap that Japan has been mired in for decades. Korean consumers, weighed down by household debt and a stagnant property market, are saving rather than spending. Companies are hoarding cash as they face uncertain demand at home and more competition from China. Korea's population is also aging faster than that of any other country in the Organisation for Economic Co-Operation and Development, with people 65 and older set to account for at least 14 percent of the population by 2017. "The way Korea used to grow can't continue unless Koreans spend more and companies invest," says Kim Yong Ok, head of economic policy at the Federation of Korean Industries.
On the surface, the economy looks healthy. The Bank of Korea forecasts growth of 3.8 percent this year. Conglomerates including Samsung Electronics and LG Electronics are gaining ground against Japanese rivals such as Sony and Panasonic in the TV market. Even though the largest conglomerates, known as the chaebol, account for 85 percent of gross domestic product, they employ only 13 percent of the workforce. The other 87 percent of the country's workers are self-employed or work for small and midsize companies with much slower rates of growth. Factories overseas account for 15 percent of Korean manufacturers' total production, up from 4 percent a decade ago. Hyundai Motor makes about 40 percent of its vehicles in Korea, down from 60 percent in 2008. In August, Hyundai-controlled Kia Motors unveiled plans to spend $1 billion on its first factory in Mexico.
The move offshore has been prompted in part by a lack of consumer demand at home. At the end of 2013, household debt in Korea was 86 percent of GDP, the second-highest among major Asian economies behind Malaysia, at 87 percent. The ratio of Korean household debt to disposable income was 164 percent, compared with 115 percent in the U.S. The stalled property market has taken a heavy toll on wealth and consumer spending, since real estate accounts for almost 75 percent of household assets in Korea, vs. less than 40 percent in the U.S.
In a bid to revive spending, the Bank of Korea in August trimmed its benchmark interest rate to 2.25 percent from 2.5 percent, the first cut in more than a year. In June, President Park Geun Hye replaced almost half her cabinet, partly to boost her economic plans. Choi Kyung Hwan, the new finance minister, quickly announced an 11.7 trillion won ($11.5 billion) spending plan and promised a bigger budget for next year, aiming to jump-start the economy through higher government spending.
In August the government published plans for a 10 percent tax on corporate profits not used for investments, wage increases, or dividend payments to spur companies to spend their cash. Samsung had the equivalent of $60 billion in cash and short-term investments at the end of June, compared with Apple's $38 billion. The 763 companies in Korea's benchmark Kospi stock index are sitting on more than $800 billion in cash. "We're trying to give a signal here," says Moon Chang Yong, head of the tax bureau at the finance ministry. "It's time to help stoke domestic demand."
But the chaebol have compelling reasons to hold on to their cash and invest overseas instead of at home. Rising wages and a strong local currency make it more expensive to do business in Korea. Since the start of 2012, the won has appreciated 13 percent against the U.S. dollar, even as Japanese automakers such as Toyota Motor have enjoyed a big lift from a 27 percent weakening of the yen. Fortunately for Korea, fiscal and monetary policymakers have a lot more room to maneuver than their counterparts in Japan, where rates have been low for years and government spending has already been boosted. "I don't think you will see a two-decade stagnation," says Matthew Circosta, an economist with Moody's Analytics in Sydney. "But you can't rule it out."
Before it's here, it's on the Bloomberg Terminal.
LEARN MORE