pursuits
Can Amazon Create a Hit Show?
Can the Everything Store create a hit show?
By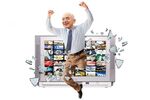 Amazon.com is heading to Hollywood. In addition to dropping a billion on the gaming platform Twitch, the website released five pilots for TV shows in August, two hourlong thrillers and three half-hour comedies. It's actually the third season of pilots—don't worry, you haven't missed anything good—for Amazon Studios, which feeds original content to Amazon's Instant Video program, the streaming service customers get along with a year's free shipping when they buy into Prime for $99. Customers also get to wield the power of the producer on amazonoriginals.com, delivering a verdict on which ones should be made into a full season and, potentially, become the next House of Cards or Orange Is the New Black.
Amazon's no Netflix, but it's trying. This season's pilots are made by well-known directors, such as Whit Stillman and Marc Forster, and feature even higher-profile actors, including Chloë Sevigny and Mena Suvari. It's fun to produce stuff, as any rich kid who moves to Hollywood will tell you, but that's probably not the motivation for Amazon to get into TV. More likely, this is an effort to keep Prime subscriptions attractive. Prime customers spend twice as much on Amazon—$538 per year on average, according to a June survey by RBC Capital Markets—than casual users, so they've become the website's version of VIPs. When they're not watching things, they're ordering kitchen gadgets.
Jeff Bezos founded his company to take advantage of the changes in commerce the Internet would bring. Of course, traditional television has been falling apart for years, with customers increasingly returning the cable box in favor of subscriptions to Netflix and Hulu. And so Amazon's just working to fulfill its destiny as the marketplace of the future.
This plan will only work if the shows are any good. The best entry is probably Hand of God, an eerie, slightly repulsive thriller about a judge who gets orders from his son (who's in a coma) to hunt down the man who raped the son's wife. It opens with the judge, played by the heavy-browed and intense Ron Perlman, naked in a fountain, speaking in tongues. Things get stranger from there. It's directed by Forster, best known for Monster's Ball and World War Z.
The quality drops after that to a hum of entertaining but not gripping character-driven series. The nutty comedy Red Oaks, directed by David Gordon Green (Pineapple Express) and produced by Steven Soderbergh, is set in a loosely crafted version of 1985, with clichéd markers such as an aerobics instructor in purple tights and a throwback soundtrack rounding out the usual formula for nostalgic narrative.
Really, starring comedian Jay Chandrasekhar, introduces four suburban couples stuck in boring marriages. The kids interrupt sex, and there's a dinner party where someone drinks too much and an affair begins. Chandrasekhar is a flat-out charmer, but he's not enough to carry a show without a plot.
The Cosmopolitans, directed by noted bourgeois-chronicler Stillman and starring Sevigny and one of the kids from The O.C., is basically Stillman's first movie, Metropolitan, set in Paris. There's some understated wit.
The worst of the bunch is Hysteria, which could run without anyone noticing on the CSI Broadcasting System. A dance team falls prey to a nervous condition that might be spread by a topical story line, er, I mean, social media. The condition causes cheerleaders to convulse uncontrollably on the floor.
Amazon won't say how well these shows are doing in terms of viewership. But like most other products sold on the site, the pilots all have inexplicably high customer ratings, averaging at least four stars out of five as of this writing. Of Hysteria, user Randall Day writes: "You've never seen this before … the themes are ripped from our deepest fears about our culture and families … has all the energy of Homeland or House of Cards but turns the camera on our town and the people we know." Eleven out of 11 people found the review helpful.
Before it's here, it's on the Bloomberg Terminal.
LEARN MORE