Anadarko, Your Friendly Neighborhood Fracker
Listening to community complaints may blunt drives to ban drilling
by and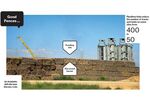 Cities and counties nationwide have passed 430 measures to control or ban fracking, the controversial technique of cracking subterranean rocks to release oil and natural gas, according to Food & Water Watch, an environmental advocacy group. If these initiatives "continue to proliferate, then companies lose access to those resources," says David Spence, a professor of law, politics, and regulation at the University of Texas School of Law who studies fracking and drilling rules. A look at drilling operations in Texas and Colorado shows drillers taking different approaches to that threat.
At a site near Dacono, Colo., Anadarko Petroleum built a wall of hay bales to hide swarms of trucks and floodlights and soften the roar of diesel engines in an attempt to be neighborly. At Dacono and other sites around the state, the company also built pipelines for water, oil, and gas to reduce the number of trucks and tanks at some locations to 50 from 400 in 2011. Thanks in part to these measures, state officials and environmental activists struck a deal in August to keep an antifracking referendum off the ballot in November while a task force studies the industry's impact on local communities.
No such compromise was reached about 800 miles away in Denton, Texas, a city of about 120,000 that sits atop the Barnett Shale, where the U.S. fracking boom began in the early 2000s. The result has been five years of public rancor over a series of projects.
The uproar started in 2009 when Range Resources staked out a well site across the street from a park, hospital complex, and hillside neighborhood. Despite local opposition, the company chose the site over three other Denton locations, according to District 1 City Councilman Kevin Roden. Range Resources spokesman Matt Pitzarella declined to comment on the company's former wells in Denton, which are now operated by Legend Natural Gas. Legend didn't return calls seeking comment.
Although Denton changed its regulations early last year, requiring new wells to be at least 1,200 feet from homes, producers can still drill wells at existing sites, including those that don't meet that requirement. EagleRidge Energy didn't inform residents last year when it began working with heavy equipment and oil-field machinery as close as 187 feet to backyards in one subdivision, according to Lindsey Baker, a spokeswoman for the city of Denton. Some homeowners felt their houses tremble during drilling, dislodging pictures from their walls, while others struggled to sleep as powerful lights atop a rig blazed through their windows at night. EagleRidge Chief Operating Officer Mark Grawe didn't return calls seeking comment.
EagleRidge started another well three blocks to the south, sandwiching the community between drilling sites. Traffic bogged down and roads deteriorated as hundreds of trucks brought fracking materials to the sites, Baker says. Companies have alienated some voters with an attitude of "this is just the way that it is in Texas, and if you don't like it, that's just too bad," says Cathy McMullen, a Denton resident who started pushing for more regulations after wells were drilled in her neighborhood. "As far as the industry goes in Texas, there is no give-and-take. There is just we give and they take." Denton residents began a campaign to ban fracking in February and gathered enough votes on a petition to take the question to voters on Nov. 4.
Industry representatives argue that the city is partly to blame for allowing developers to build residential communities in areas where drilling was already allowed. "It's a conflict that was actually created by the administration in the city of Denton," says Ed Ireland, executive director of the Barnett Shale Energy Education Council.
In Dacono, Anadarko's more diplomatic approach helped avoid a similar vote. In December the company named Alex Hohmann, an engineer who previously helped complete wells, to lead a new team dealing with community relations. Hohmann visits potential sites and neighborhoods, sometimes going door-to-door to discuss drilling. He and his three-person group run a hotline to answer questions about company activities, send notices to homes and neighborhood associations to alert them to drilling plans, and organize community meetings. "When your oil field is intermingled with 250,000 people, it's increasingly important to take into account the neighborhood, the church, and the school," he says. "We have to demystify" fracking, he adds, "to help people see it as compatible with their lives. That's our industry's challenge."
Before it's here, it's on the Bloomberg Terminal.
LEARN MORE