Hawaii Is a State. Can It Be a Country, Too?
The Interior Department wants to recognize native Hawaiian rights
By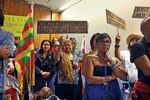 For years, native Hawaiians, whose islands were once a kingdom, have fought for recognition of that distinctive history from the U.S. government. They've won an array of federally funded benefits for those who can claim they're descended from the state's aboriginal people, including housing, education, and health-care programs. Yet they've been repeatedly stymied in their efforts to win sovereign recognition like that of American Indian tribes on the mainland.
Now the Obama administration is considering a plan to establish "government-to-government" relations with native Hawaiians. Announced by Interior Secretary Sally Jewell in June, the plan could lead to greater legal protection for programs favoring native Hawaiians and add momentum to an effort by the Office of Hawaiian Affairs, a state agency, to build a self-governing entity. "The department is responding to requests from the native Hawaiian community but also state and local leaders and interested parties," Department of the Interior spokeswoman Jessica Kershaw wrote in an e-mail.
While Republican senators have called the proposal divisive and say it goes too far, hundreds of Hawaiians turned out at public hearings to protest because they say it doesn't go far enough. "If the United States is truly intent on reestablishing a government-to-government relationship, it needs to be with the reformed independent Hawaiian nation-state," Ethan Onipa'a Porter, a teacher, said at a forum in Honolulu. "I think the Department of the Interior completely misread the pulse out here before they decided to go down this road," says former Hawaii Attorney General Michael Lilly, a Republican.
The roots of the dispute date back to the 1890s, when Hawaii's Queen Lili'uokalani was overthrown by sugar planters. The islands were annexed by the U.S. in 1895 and became the 50th state in 1959. Congress passed a resolution in 1993 apologizing to Hawaiians for the government's role in ousting the monarchy. Democratic Senator Daniel Akaka championed legislation supporting native Hawaiian self-determination from 2000 until he retired last year. President Obama, who was born in Hawaii, supported the legislation. Republicans made sure the bill never passed.
Now the administration is moving ahead without Congress. In an Aug. 1 letter to Jewell, Republican Senators Tom Coburn of Oklahoma, Mike Lee of Utah, Lamar Alexander of Tennessee, and Jeff Flake of Arizona called the proposed move "at worst unconstitutional, and at best offensive to the character of a country devoted to the advancement of all its citizens regardless of race." The senators accused the administration of moving to usurp congressional authority and to enshrine "the type of arbitrary race-based classification that the Supreme Court has found anathema to the Constitution."
They cited a 2000 Supreme Court ruling that found the state of Hawaii couldn't limit eligibility to vote in elections for the OHA's board to people who could prove Hawaiian ancestry without violating the 15th Amendment ban on race-based voting restrictions. That raised concerns that social programs run by the OHA that favor native Hawaiians—some financed by trusts that precede the islands' annexation—could also come under constitutional scrutiny. "All of these programs exist under constant political and also legal attacks because native Hawaiians are the only major indigenous group in the United States that not only lacks a government-to-government relationship, but even a process for that relationship to occur," says Kawika Riley, the OHA's chief advocate.
Yet some Hawaiian independence activists want the federal government to open a discussion with them about full sovereignty. "It should be the Department of State addressing the question of any relationship between the U.S. government and the Hawaiian nation," Wesleyan University anthropology professor J. Kehaulani Kauanui wrote in an e-mail. "This proposal is a trapdoor."
Others say it's time for Hawaiians to receive their due. "First and foremost, it brings parity," says Michelle Kauhane, president of the Council for Native Hawaiian Advancement, a coalition of nonprofits. "Federal recognition helps us to achieve self-governance so we can turn those horrible statistics around, and we start to make decisions by our people, for our people."
BOTTOM LINE -
The bottom line: Some Hawaiians and Republicans oppose an Obama administration plan to grant islanders sovereign status.
Before it's here, it's on the Bloomberg Terminal.
LEARN MORE