Megadroughts Worse Than the Dust Bowl Could Hit the Southwest
By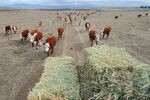 The drought in California has already devastated the environment and upended the state's economy. Imagine if it were to last for a decade. Or four decades. Or longer. So-called megadroughts are increasingly likely as the earth warms, according to a new scientific paper that paired historic drought patterns with climate change models.
Toby Ault, an assistant professor at Cornell University and lead author of the study, said he and co-authors from the University of Arizona and the U.S. Geological Survey suspected that climate change would "load the dice" and make megadroughts more common, but they didn't know by how much. So they took past drought patterns, documented through tree rings and other assessments, and then simulated the impact of global warming based on three scenarios for each of the 27 predictive models of climate change compiled by the Lawrence Livermore National Laboratory. The results will be published in the American Meteorological Society's Journal of Climate.
Once or twice a century, the U.S. has seen a roughly decade-long drought, such as the one that created the Dust Bowl in the 1930s and another in the 1950s that severely parched the Midwest and Texas. Historically, there has been less than a 50 percent likelihood of a prolonged drought occurring in any given 10-year period. But when the researchers factored in the changes in precipitation that are anticipated by the climate change models, the likelihood of a decade-long drought jumped more than 90 percent in some areas.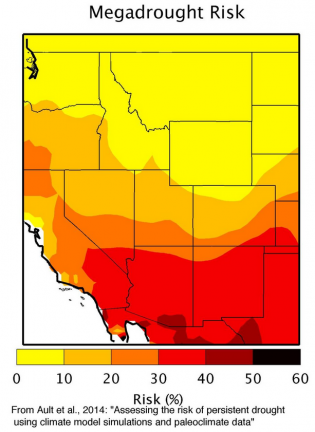 Even more alarming, they found an increased risk of a megadrought lasting more than 35 years. The Sahel region of Africa faced a dry spell that long leading up to and through the 1980s, as did Northern Mexico about 400 years ago. A paper ominously titled "Megadrought and Megadeath in 16th Century Mexico," written by Rodolfo Acuna-Soto of the Universidad Nacional Autonoma de Mexico, in Mexico City, and researchers from the University of Arkansas, describes how a prolonged drought likely aggravated disease epidemics. As a result, the region's population was decimated, falling from almost 22 million to less than 2 million over the course of just three decades.
Under the modeling by Ault's team, in the coming century the Southwest faces a 20 percent to 50 percent chance of a megadrought lasting longer than 35 years. They found a "non-negligible" risk of an even more severe scenario—a drought lasting longer than half a century, something they said hasn't been seen in more than 2,000 years. Under their most adverse prediction for global warming, the researchers predict there is a 5 percent to 10 percent chance this could happen. "We know the greater Southwest and Mexico are vulnerable to this kind of slow-moving natural hazard," Ault said.
As troubling as the predictions are for the U.S., parts of Africa, Australia, and South America are even more likely to see long droughts.

Ault said the U.S. can develop ways to manage long droughts, but "it does concern me that more vulnerable nation seems to be exposed to equal if not greater risks than we have." Ault said he's optimistic that the U.S. can create models to pare back water usage to survive the dry spells, "in the same way Los Angeles has been an example of how to be prepared for earthquakes."
Before it's here, it's on the Bloomberg Terminal.
LEARN MORE