Japan's Shame Index Tries to Spur Profits
A stock market measure showcases efficient companies
by , , and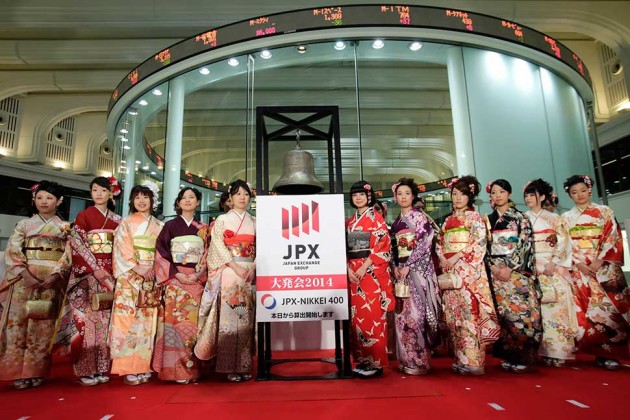 When the Japanese government came up with the idea of creating a stock index to incite better corporate performance and boost the economy, the job of devising the measure fell to Daisuke Tanaka, a lifelong employee of Japan Exchange Group. Launched in January, the JPX-Nikkei Index 400 is changing company behavior even as detractors say it will cause investors to buy overpriced stocks. "I feel glad we've made this measure," says Tanaka. "I've no regrets about how we set it up."
Unlike conventional stock indexes, which choose companies based on their size or significance, the JPX-Nikkei 400 includes those that demonstrate a commitment to making money for shareholders, as measured by return on equity (ROE) and other factors. The idea behind the index was to shame companies that didn't make the cut into changing their strategies. Last month, in the first reshuffling of the index, Sony, which posted losses in five of the last six years, was one of 31 companies dropped. Among their replacements were Mazda Motor, Daiwa Securities, and Seiko Epson.
While ROE is the most common yardstick for how well a company uses shareholders' cash, relying on that measure alone wasn't an option. "ROE is a percentage, and the numbers jump around a lot," Tanaka says. "Many companies would be replaced each year, which would increase costs for investors, making the index useless." So his team added operating income, because it would favor companies profiting from their chosen business, and market value, to reflect stock appreciation. Three-year average ROE and cumulative operating profit each receive a 40 percent weighting; market value counts for 20 percent. "There was no point creating an index that wouldn't be used," he says. "We wanted something practical that asset managers could rely on."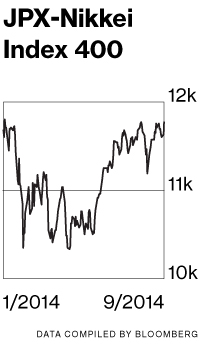 Investors had almost $2 billion as of Aug. 7 in four exchange-traded funds and 19 investment trusts that track the index, according to JPX Chief Executive Atsushi Saito. The $1.2 trillion Government Pension Investment Fund had about $1.5 billion following the measure through three funds, it said on July 4. The Bank of Japan is considering buying ETFs linked to the index, people familiar with the matter said in July. "When we built it, we didn't know whether the funds would come," Tanaka says. "There was a possibility nobody would."
Nicholas Smith, a strategist at stockbroker CLSA in Tokyo, says the JPX-Nikkei 400 is flawed, because it will pick stocks with high ROE at the top of their cycle, when investors should be selling them, and companies with low shareholder returns can sneak in if they rank high on other criteria. Nomura, Japan's largest brokerage, is still included, even with a three-year average return on equity of 4.8 percent, compared with a current ROE of 9.3 percent for the index. Smith rejects the idea of "smart-beta indexing"—trying to improve indexes by tweaking the criteria they use. "Smart-beta indexing doesn't work," he says. "It outperforms in some markets and underperforms in others." The JPX-Nikkei 400 is down 1.5 percent this year through August, compared with a 1.8 percent decline for the Topix index, which tracks about 1,800 stocks, and a 5.3 percent drop for the Nikkei 225 Stock Average.
There are signs companies are taking the measure seriously. Kawasaki Kisen Kaisha, Japan's third-largest shipper, set an ROE target for the first time because investors are placing more weight on it. It's seeking returns of 10 percent in five years, according to a report in the Nikkei newspaper. Amada, one of 74 companies from the Nikkei 225 left off the JPX-Nikkei 400's initial roster, pledged in May to pay out about half its profit in dividends and spend the rest on stock buybacks to boost return on equity. Minebea, a bearings maker that was added in August, said this month it's targeting record ROE of 20 percent in the next three fiscal years. "This index is about making things better for all Japanese companies," Tanaka says. "We want those that don't make it to try to get on. We've no intention of writing the rejects off."
Before it's here, it's on the Bloomberg Terminal.
LEARN MORE