pursuits
How to Make Sure That's Really Swiss Cheese
Using bacterial fingerprints to uncover bogus Emmental
By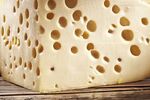 Housed at -112F in a Bern freezer is the Swiss cheesemakers' secret weapon against forgeries. That's where government scientists keep 10,000 strains of milk bacteria that can be used to identify copycats. The country's cheese industry, with 604 million Swiss francs ($658 million) in exports last year, has turned to DNA fingerprinting to fight counterfeits, which Emmental producers estimate have cost them as much as 20 million Swiss francs annually.
Forgeries contribute to declining revenue for an industry already beleaguered by high production costs; and the rising Swiss franc also makes the country's cheese more costly abroad. Exports of Emmental, for example, sank 18 percent in terms of volume in the first half of 2014. Even worse, the Switzerland Cheese Marketing industry association estimates that about 10 percent of cheese labeled as Swiss-made Emmental on supermarket shelves worldwide isn't real.
"If the cheese is an inferior fake, it ruins the reputation," says Agnes Beroud, who works for the producers' association for tête de moine cheese. (The name is French for monk's head.) "It's important to protect the traditional way of making the cheese."
Government scientists worked for a decade to identify the right type of bacteria that could be introduced as a marker inside authentic Swiss cheese. The challenge was finding microbes that wouldn't alter the cheese's taste, texture, or smell. Using a synthetic identifier wasn't possible, because regulators forbid additives. The 10,000 strains in Bern were harvested decades ago, before the mass use of antibiotics. The fingerprinting started in 2011 with Emmental, the most widely exported Swiss cheese, after fakes surfaced in Italy. Tête de moine, a semihard cheese, got its DNA marker last year; the milk for it must come from grass-fed cows within a 20-kilometer (12.4-mile) radius of the dairies, in the Jura region. Identifiers for Gruyère and Sbrinz are in the works.
Traditional Swiss cheeses bear the maker's number and production date. They're usually cut into small chunks for sale to consumers, though, obliterating the label. To check for a fake, "you take the cheese, extract the DNA, and check for the presence of your marker," says Deborah Rollier, a lead scientist for the project at Agroscope, the government's institute for food science.
Only registered producers may order sachets of the bacteria, and scientists rotate the three DNA markers to ensure that even if a forger gets hold of one, it won't be useful for long. There are also spot checks in supermarkets. "It has a deterrent effect, because people know there is a method," says Petra Lüdin, a project manager at Agroscope. "Fakes in Italy have declined."
The Swiss have been producing cheese since at least the Middle Ages. Today, makers of Emmental, tête, Gruyère, and other varieties adhere to strict rules to guarantee purity. That raises production costs and means consumers pay more. It also opens the door to cut-rate forgeries claiming to be made in Switzerland to its stringent standards. This compounds the challenge producers already face from cheeses that have Swiss names, such as Emmental, but are legitimately produced elsewhere and cost less.
"We've got a big history, and it's important to safeguard it," says Daniel Amstutz, who runs his family's dairy in the hamlet of Fornet-Dessous. His son Menno oversees production of tête de moine, which traces its origins to the nearby medieval monastery of Bellelay. "I hope it continues like this."
Before it's here, it's on the Bloomberg Terminal.
LEARN MORE