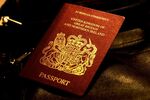 No one knows how many citizens of Western countries have gone to Syria and Iraq to wage jihad under the black-and-white flag of the insurgent Islamic State. Various government and analysts' estimates put it at roughly 2,000, a number that includes Douglas McCain, the American killed in August in Syria, and the masked British executioner known in the London tabloids as "Jihadi John."
Britain is on alert for what Prime Minister David Cameron says is a "highly likely" domestic terror attack. On Sept. 1, Cameron unveiled his strategy for countering the threat: legislation that would give police temporary power to confiscate the passports of British citizens suspected of planning to join terrorist groups, particularly Islamic State, a Sunni offshoot of al-Qaeda. "Adhering to British values is not an option or a choice," Cameron told Parliament.
Dutch Justice Minister Ivo Opstelten said on Aug. 29 that the Netherlands had canceled the passports of 33 people suspected of planning to join terror groups, preventing them from traveling overseas, and placed some of their children in foster care. The government also proposed legislation that could force "problem individuals" to relocate, restrict their movements within the Netherlands, or require them to report periodically to the authorities, says a spokesman for the country's justice ministry.
Some U.S. politicians want to go further. "How about the first strategy being taking away the citizenship of those fighting alongside terrorists?" Scott Brown, the Republican candidate for U.S. Senate in New Hampshire, told a political blogger on Aug. 29. In 2010, when he was a senator from Massachusetts, Brown co-sponsored the Terrorist Expatriation Act with former Connecticut Senator Joe Lieberman. The bill, which died in committee, would have added "joining a foreign terrorist organization or engaging in or supporting hostilities against the United States or its allies" to the list of acts that could cost Americans their citizenship. Brown introduced a similar bill in 2011 before losing his seat; no such legislation is currently under consideration.
Stripping people of their citizenship is illegal in most of the world under a United Nations convention aimed at curbing statelessness. Sixty-five countries, including most of the 28 member states of the European Union, have signed. The U.S. hasn't, but the Supreme Court ruled in 1958 that revoking a soldier's citizenship for desertion would amount to cruel and unusual punishment.
It's not clear how the U.S. government would determine who should have their citizenship revoked. "There are programs that try to figure out who might have gone over and participated in the fight, but those are resource-intensive because you get so many people who get swept up in the net," says Don Borelli, a former FBI counterterrorism specialist who's chief operations officer for the Soufan Group, a security consulting firm. "We used to try to do this with Pakistan, to try to find people who had gone to the training camps, and the results were not great."
Before it's here, it's on the Bloomberg Terminal.
LEARN MORE