Chinese Kids Gorge on Junk Food, With Familiar Consequences
By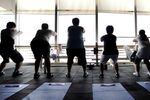 It turns out American kids aren't the only junk food-consuming, soda-imbibing couch potatoes out there. Rising incomes, rapid urbanization, and cities dotted with Pizza Hut, KFC, and McDonald's outlets are contributing to unhealthy eating habits and growing obesity among Chinese children.
Citing a recent survey of 10,000 students in 24 schools in six Chinese cities, including Jinan, the capital of Shandong province, and Xining, the capital of Qinghai, the China Youth Daily reported today that more than half of Chinese children eat unhealthy food daily, a category that includes overly sweet and salty snacks as well as fried foods. A quarter of primary school pupils and 16 percent of middle schoolers sip sugary beverages every day.
When it comes to exercise, Chinese kids aren't huffing and puffing toward health. About two-thirds of students get less than an hour of exercise a day, according to the survey. Only 40 percent of primary pupils and one-fifth of middle school students exercise outdoors on the weekends. "Lack of physical exercise and an unbalanced diet are universal health issues among the young," the China Daily said.
China is facing a rapid rise in obesity among its children, according to a recent report by the University of Washington's Institute for Health Metrics and Evaluation. Twenty- three percent of Chinese males younger than 20 are overweight or obese, as are 14 percent of their female counterparts. In 1990, the corresponding rate for Chinese male and female youth was less than 10 percent.
While today's rates in China are well below those in the U.S. (almost 30 percent for young males and females), they're higher than those in Japan, South Korea, and India.
Before it's here, it's on the Bloomberg Terminal.
LEARN MORE