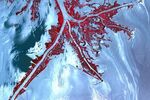 BP's risky legal strategy suffered a severe setback on Thursday after a federal judge in New Orleans ruled that the oil giant acted with "gross negligence" in causing the 2010 Gulf of Mexico spill. The interim ruling substantially increases the additional multibillion-dollar liability BP will face in the continuing litigation over the largest offshore spill in U.S. history.
The precise dollar amount of BP's additional legal bill won't be known until after further judicial findings on just how much crude oil spewed into the Gulf in an accident that killed 11 rig workers, sullied shorelines, and shut down maritime businesses throughout the region. U.S. District Judge Carl Barbier issued his ruling after presiding over a trial that also involved BP's contractors—Halliburton and Transocean—but he placed most of the blame on the British-based owner of the well project.
The finding of gross negligence is a maritime legal term of art more akin to "recklessness" in other contexts. Barbier made that clear: "BP's conduct was reckless," he wrote. "Transocean's conduct was negligent. Halliburton's conduct was negligent."
BP may be reaping the results of an aggressive legal strategy that has included harsh attacks on Barbier and on a private lawyer he appointed to oversee distribution of claims in a different part of the spill litigation. Barbier has expressed frustration over BP's tactics and has consistently defended his claims administrator, Patrick Juneau, whom BP recently sought to have removed because of alleged conflicts of interest.
BP has already paid out more than $28 billion in claims and cleanup costs. Barbier's ruling on gross negligence could mean it will face additional penalties of as much as $18 billion. The company has reported that it has taken a $43 billion charge to cover all costs related to the spill. BP shares fell as much as 5.3 percent, Bloomberg News reported.
My colleagues at Bloomberg News added this helpful analysis:
The ruling marks a turning point in the legal morass surrounding the causes and impact of the disaster. Four years of debate and legal testimony have centered on who was at fault and how much blame each company should carry. The coalition of plaintiffs [suing BP] included the federal government, five Gulf of Mexico states, banks, restaurants, fishermen and a host of others who have pursued redress for their losses. While today's ruling provides a partial answer, appeals may mean it will be years before final penalties are settled.
BP released the below statement:
BP strongly disagrees with the decision issued today by the United States District Court for the Eastern District of Louisiana and will immediately appeal to the United States Court of Appeals for the Fifth Circuit.

BP believes that the finding that it was grossly negligent with respect to the accident and that its activities at the Macondo well amounted to willful misconduct is not supported by the evidence at trial. The law is clear that proving gross negligence is a very high bar that was not met in this case. BP believes that an impartial view of the record does not support the erroneous conclusion reached by the District Court.

The Court has not yet ruled on the number of barrels spilled and no penalty has yet been determined. The District Court will hold additional proceedings, which are currently scheduled to begin in January 2015, to consider the application of statutory penalty factors in assessing a per-barrel Clean Water Act penalty. The Clean Water Act requires the District Court to consider a number of factors in determining an appropriate penalty. The statutory maximum penalty is $1,100 per barrel where the court finds simple negligence and $4,300 per barrel where the court finds gross negligence or willful misconduct. During the penalty proceedings, BP will seek to show that its conduct merits a penalty that is less than the applicable maximum after application of the statutory factors.

BP is reviewing the decision and will issue a further statement as soon as possible.
Before it's here, it's on the Bloomberg Terminal.
LEARN MORE