Baidu Makes Gadgets and Moves Into E-Commerce
by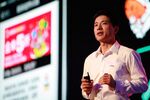 The Google guys can have their glasses; Robin Li has his chopsticks. The billionaire behind Baidu, which chased Google out of the Chinese search market, is keen on showing that his company can be just as innovative as the American tech giant. So at the annual Baidu conference this week in Beijing, Li unveiled some electronic kuaizi that can alert users to potentially harmful substances in their food.
The chopsticks are fun, but probably the more important new product for now is BaiduEye, a light camera users can attach to their ears. If something strikes your fancy, you can quickly take a picture and use Baidu to do a search. "This is like an extension of your eye, a third eye or second brain," designer Gu Jiawei told Bloomberg News.
The new products are part of Baidu's campaign to keep its dominance in Chinese-language search—and use that dominance to become more of a player in e-commerce. That should help counter Alibaba, the Baidu rival that is about to have one of the world's most eagerly awaited initial public offerings. A year ago, as Chinese Internet users were shifting from PCs to smartphones and tablets, Baidu was vulnerable. But the company has since focused on building its mobile business.
Competition remains "limited" and "weak," according to Jefferies analysts, led by Cynthia Meng, in a report published today. Baidu is "by far the leading mobile search engine in China."
That gives Li a chance to look to new services that can help Baidu become stronger in e-commerce. The other two members of China's Big Three in cyberspace, Alibaba and Tencent, have powerful e-commerce brands of their own. Alibaba, of course, has shopping sites Taobao and Tmall. Tencent has the mobile messaging app WeChat and now owns a 15 percent stake in Alibaba rival JD.com.
Baidu, on the other hand, tried to build an online shopping business through a joint venture with Japanese e-commerce giant Rakuten, but the business didn't take off and the partnership ended. Baidu now is trying to work with local partners instead. Last week it announced an alliance with Tencent and property developer Dalian Wanda to form a new online shopping venture.
The new BaiduEye device should make the company's move into e-commerce easier. "Image searching could offer business opportunities in online shopping," Morgan Stanley analysts wrote on Thursday, "as over one-third of Baidu's image-search queries are about shoes, bags and apparel."
Before it's here, it's on the Bloomberg Terminal.
LEARN MORE