Al-Qaeda in India Tests Modi's Bid to Unite Muslims, Hindus
Kartikay Mehrotra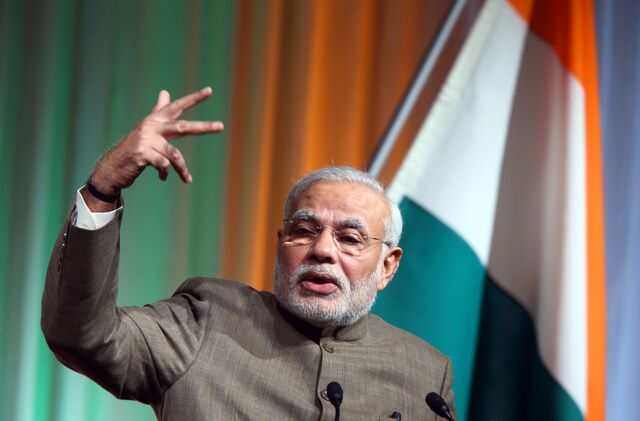 Al-Qaeda's announcement that it plans to conduct jihad operations in India will provide a test of Prime Minister Narendra Modi's efforts to overcome divisions between Hindus and Muslims and find ways to work with Pakistan to counter extremism.
In a 55-minute video released Sept. 3, al-Qaeda leader Ayman al-Zawahiri said the terrorist organization plans to conduct operations in India as well as work to end what he called the suffering of Muslims throughout South Asia, including Kashmir, Myanmar and Bangladesh. The video indicated the group would be led by two Pakistani militants from Pakistani territory.
Modi's election in May fueled hopes for renewed peace efforts between nuclear-armed India and Pakistan, which have fought four wars since 1947, two of them over Kashmir. Pakistan Prime Minister Nawaz Sharif attended Modi's inauguration, though India last month called off the first formal bilateral talks in two years after Pakistan's ambassador to India sought to meet Kashmiri separatists amid rising border skirmishes.
"More than any other Indian leader in the past, Modi understands the importance of solid, good relations between India and its neighbors," said Rohan Gunaratna, head of the S. Rajaratnam School of International Studies' International Centre for Political Violence and Terrorism Research in Singapore. "Modi is a regionalist, he understands that India cannot rise by itself, that India should work together with its partners."
'New Era'
Modi has pledged to treat all Indians equally regardless of religion. He told supporters that he saw "the dawn of a new era" for the country on May 16, when results of the election that brought him to office were announced. Many Indian Muslims, a community that accounts for 13 percent of the nation's 1.2 billion population, remain suspicious given the Hindu nationalist roots of his ruling party and his record as chief minister of Gujarat. His home state was riven by Hindu-Muslim riots in 2002 that left about 1,000 people dead, mostly Muslims.
Modi has been accused of failing to stop that rioting. The violence erupted after 59 Hindu activists died in a train fire for which 11 Muslims received a death sentence. He has repeatedly denied the accusations, and a Supreme Court-appointed panel found no evidence he gave orders that prevented assistance from reaching those being attacked.
"According to Pakistani jihadists, Modi's party is full of killers of Muslims who have blood on their hands and they're out for revenge," Sreeram Chaulia, professor at the Jindal School of International Affairs on the outskirts of New Delhi. "The threat level around him has always been high."
'Fringe Group'
The Indian government is fully prepared to confront the threat from al-Qaeda, Mukhtar Abbas Naqvi, a spokesman for the ruling Bharatiya Janata Party, said by phone. The Indian Air Force plans to build two "full-fledged" bases in the state of Jammu and Kashmir, Air Chief Arup Raha told reporters today in New Delhi.
"Modi is a professional when it comes to the polarization game, and this will be an early test for his government when they get a taste of their own medicine," said N. Bhaskara Rao, chairman of the New Delhi-based Centre for Media Studies. "The rallying potential of minorities is there. There's a fringe group among the fringe Muslims who are waiting for the opportunity to challenge Modi."
The flurry of violence at the India-Pakistan border, also known as the 'line of control,' remains ground zero for Indian security as insurgents from both sides sneak across under cover of gunfire, said Chaulia. Pakistan has lost the strength to fight a conventional war and resorts to terrorism, Modi told soldiers during a visit to the region.
Aggressive Rhetoric
"We feel of late Mr. Modi's rhetoric has become very aggressive and he's using strong language against Pakistan," Mushahid Hussain Syed, chairman of Pakistan's Senate Defence Committee, said in an interview yesterday. "His actions are contrary to peace and cooperation between Pakistan and India because he has canceled peace talks and the border has seen a lot of shelling and firing. We hope this is not something so serious that it will undermine Pakistan-India relations."
Extremist groups have executed at least 11 major terrorist attacks since an intelligence overhaul in 2008 when Pakistani militants killed 166 people in Mumbai. The so-called Indian Mujahedeen, often linked to al-Qaeda training in Pakistan, is blamed for orchestrating a bombing that killed 16 people in Hyderabad last year and a 2011 blast at New Delhi's high court that left 15 dead.
Impetus
"The announcement gives Islamic-based extremists a resurgence and impetus in the region," Tasneem Noorani, a former secretary with Pakistan's Interior Ministry, said by phone from Lahore. "The wing can be a partnership with some local group just like the Taliban's franchise in Pakistan."
Pakistan has suffered from Islamic terrorism and more than 50,000 people have been killed in attacks by militant groups linked to the Pakistani Taliban and their allies in al-Qaeda since 2001. The army is currently engaged in a ground offensive that started in late June to flush out militants in the tribal region of North Waziristan that the U.S. has called the "epicenter" of terrorism.
The Pakistani army also regularly engages Indian troops along their shared border in Kashmir, a region divided between the two countries and claimed in full by both. Since 1988, more than 14,000 Indian civilians and 6,000 security personnel have been killed in violence in the region, according to the South Asia Terrorism Portal, which doesn't have similar figures for Pakistani deaths.
Previous Effort
Al-Qaeda had previously tried to open a wing in South Asia under the leadership of Ilyas Kashmiri, which failed when he was killed in a U.S. drone strike in 2011, according to Indian think tank Gateway House, which said this latest attempt is possibly to assert its position after the rise of the Islamic State movement in Iraq and Syria.
"Publicity and propaganda are al-Qaeda's principal operational tools, and it's likely that they are endeavoring to catch up with Islamic State's extensive media coverage," Gateway House's Sameer Patil wrote in a report today. The announcement "by al-Qaeda also highlights that its base remains in the Afghanistan-Pakistan region," he said.
Before it's here, it's on the Bloomberg Terminal.
LEARN MORE