pursuits
The Odds That Lightning Will Ruin Your Football Saturday
Alyssa Abkowitz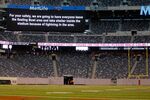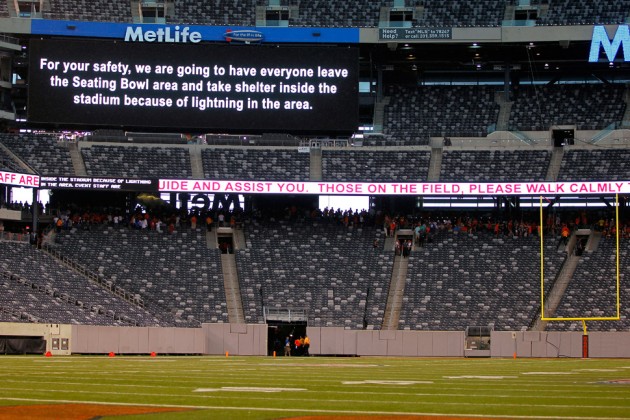 Weatherwise, football is supposed to be like the Postal Service, undeterred by snow, rain, heat, or gloom of night. But when it comes to lightning, the NCAA is not messing around. The Alabama-Arkansas game last weekend was delayed in the fourth quarter thanks to lightning in Auburn, Ala., and the University of Florida vs. Idaho matchup in Gainesville, Fla., was completely canceled, leaving a stadium filled with nearly 20,000 soaked, football-deprived fans.
If lighting strikes within 10 miles of a stadium, NCAA policy requires a public announcement advising fans to evacuate. If it hits within six miles, players and officials are required to leave the field, and the game is delayed 30 minutes after the last strike of lightning has been detected within that radius. An overreaction? Maybe not: While deaths from lightning strikes in the U.S. are low compared with other natural disasters, 45 percent of such deaths occur in open areas, such as sports fields, making football stadiums with metal bleachers prime targets.
Given that only 11 Division 1 football teams play indoors, researchers at Mississippi State University decided to try to figure out the probability that lightning might strike outdoor football stadiums in the Southeast—including stadiums in Louisiana, Alabama, Mississippi, and Arkansas, states where football is huge and intense lighting storms are common. The authors looked at "cloud-to-ground" lightning strikes that occurred within 15 miles of 81 NCAA football stadiums and used the National Lightning Detection Network 2001-11 dataset of cloud-to-ground lightning strikes, along with the NCAA's policy on lightning, to determine results.
The researchers found that during August and September, more than 500,000 strikes per week, on average, hit within the study's domain. October and November averaged fewer than 500,000 strikes per week. The most dangerous time: the first week of the season, when 29 percent of all strikes within the study area occurred.
As for delays, the researchers found that the highest probability of a delay—a 67 percent chance—occurs when the first lighting strike is detected within six to seven miles from the stadium. The average game delay lasts a little more than an hour.
But the researchers also noted that more lightning strikes in a given an area didn't necessarily translate to a greater risk of delays or potential disaster, making lightning one of the most difficult risks to forecast.
For fans in the Southeast, though, it looks like the worst week for lightning is over. Now they'll just have to worry about winning games.
Before it's here, it's on the Bloomberg Terminal.
LEARN MORE