The Case for Getting a Tech-Focused MBA in Asia
by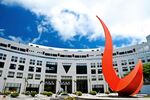 The dynamism of Silicon Valley draws a slew of young professionals, and the leading business schools in the area are attractive in part because of their close ties to an ecosystem of innovative startups and tech giants.
What about the career opportunities even farther west, in Asia? Martin Bednar had already earned a master's degree in human-computer interaction from Georgia Institute of Technology and worked for years as a software designer in California's Bay Area when he decided to get his MBA at the Hong Kong University of Science and Technology (HKUST). Through an exchange program with HKUST, he's now finishing his course work at the University of California at Berkeley's Haas School of Business. He expects to graduate in 2015.
I spoke with Bednar about his ambitions, and his attraction to Asia. An edited transcript of our conversation follows. Click here for a video of the complete interview.
What was the attraction of Asia for business school?
As a designer, I found that I had an influence over a small part of the product—in this case, what the software looks like. I didn't have much influence over whether we make product A or product B. I wanted to see more of the financial aspect of decisions and what it takes to run a business. From the regional perspective, I had never been to Asia, and I like to explore places by living there for a while as opposed to just visiting for a few weeks with a backpack.
China has enjoyed tremendous economic growth in the last 20 years, but that's also true of Silicon Valley. How do opportunities in the two regions compare?
The environments are very different. While Silicon Valley is still the biggest venture tech scene in the world, there are some huge opportunities in China. Just over the border [from Hong Kong] in Shenzhen there is Tencent, which is the largest Internet company in the world by number of users, and consumer-electronics maker Xiaomi, which in three years has grown to a valuation of $10 billion just by catering to the Chinese market. The market in Silicon Valley may be more mature, but the opportunities in Asia are as big or bigger, and the growth rate is really exceptional.
Has getting an MBA in Asia given you a different perspective of global business?
Hong Kong really is halfway between the West and Asia, so it gives you the combination of the education you would expect from a top-class MBA as well as a unique insight into doing business in China. Some of our classes are taught by executives who have opened branches of the world's largest companies in China, and their stories are very insightful. The network in Hong Kong is very good, and people respond to requests to meet. Learning about the specifics of doing business in Asia, and guanxi connections, you understand that it is very important to know people here to get to the next level, especially to mainland China.
What is the return on investment for getting an MBA in Asia?
One of the reasons that I chose Hong Kong is, the value for the money is really good. The immediate return is more difficult to assess, especially when you are changing regions. The MBA at HKUST has opened doors in Hong Kong and the region. I now know enough companies so that if I decided to stay here I could. It also has been useful for targeting companies back in California. Many large Asian companies are setting up international offices, so my experience here and learning Mandarin makes it easier to find a job with a multinational company from China.
Before it's here, it's on the Bloomberg Terminal.
LEARN MORE