Obama Says Regional Coalition Needed to Stop Extremists
Angela Greiling Keane and Phil Mattingly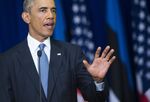 President Barack Obama said U.S. airstrikes have halted the military momentum of Islamic State extremists in Iraq and the next step must be building a regional coalition to close in on them.
Speaking shortly after the U.S. verified the authenticity of a video released yesterday by Islamic State showing the execution of a second U.S. journalist, Steven Sotloff, Obama said such horrific acts will only serve to unite the U.S. and the world.
"It's not only that we're going to be bringing to justice those that perpetrated this terrible crime against these fine young men," Obama said in Tallinn, Estonia, where he stopped before a summit of NATO members. "The United States will continue to lead a regional and international effort against the barbaric" and "empty" vision of Islamic State, he said.
U.S. lawmakers are pressuring Obama to take stronger action to combat Islamic State, which has captured swaths of Iraq and Syria. The U.S. has carried out airstrikes against Islamic State militants in Iraq, and Obama yesterday authorized the deployment of about 350 more troops to protect diplomatic personnel in Baghdad.
While the U.S. has sent hundreds of military personnel into Iraq to guard U.S. interests and advise the Iraqi army, Obama has vowed he won't send in combat forces and European allies such as the U.K. and Germany haven't committed to joining airstrikes.
Obama today said it will take time to "degrade and destroy" Islamic State and repeated his stance that the goal can only be accomplished if Iraq has a functioning, inclusive government that can unite Sunnis and Shiites.
Seeking to clarify his remark last week that he had "no strategy" for hitting Islamic State in Syria, Obama said he was referring to a military plan to identify a mission and targets and one that has the full support of the U.S. public and allies.
"It is very important to me that when we send our pilots in to do a job that we know this is a mission that's going to work" and that it has support, he said.
Before it's here, it's on the Bloomberg Terminal.
LEARN MORE