NYC St. Patrick's Day Parade to Include Gay Group
Henry Goldman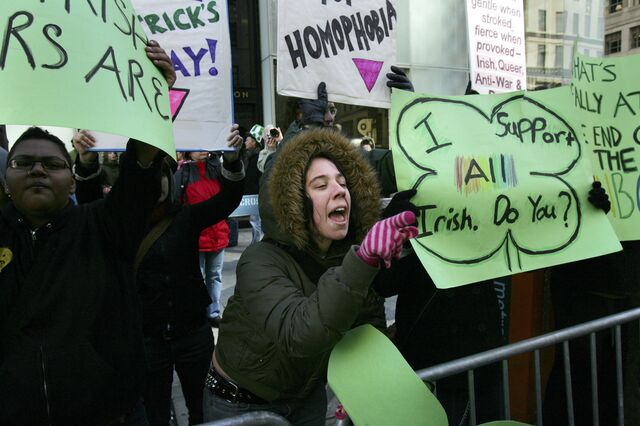 New York's St. Patrick's Day parade will include a group of gay marchers for the first time.
The Out@NBCUniversal organization will join the parade under its own banner, according to a news release from the celebration's organizers.
"This change of tone and expanded inclusiveness is a gesture of goodwill," said Bill O'Reilly, a spokesman for the NYC St. Patrick's Day Parade, which occurs on the March 17 holiday.
The procession, which celebrates the patron saint of Ireland, has been a tradition in the city since 1762. Its policy of banning self-identified gay groups has spurred boycotts in recent years by celebrities and elected officials, including Mayor Bill de Blasio. Last year, Guinness Anchor Berhad BHD, the Irish beer-maker, withdrew its sponsorship, citing the policy.
Today, de Blasio said he needs to hear more from the parade organizers and community groups before he decides whether to march in next year's parade.
"This is a step forward," he told reporters at City Hall. "But I need to know more before I can say how we are going to handle a situation six months from now."
Competing Procession
Timothy Cardinal Dolan, Archbishop of New York and the pastor at Manhattan's St. Patrick's Cathedral, said he supported the parade organizers' decision. Dolan, who is to be the grand marshal of the 2015 parade, said the non-profit group's past policies weren't instituted at the church's request.
"My predecessors and I have always left decisions on who would march to the organizers of the individual parades," he said in a statement, adding that he prayed "that the parade would continue to be a source of unity for all of us."
Nathan Schaefer, executive director of the Empire State Pride Agenda, which pushed Governor Andrew Cuomo and the legislature to legalize same-gender marriage in 2011, called the action self-serving and overdue. The group will continue to host an alternative parade for homosexual and transgender Irish Americans.
"Inviting one group to march at the exclusion of all others and continuing to refer to our vibrant community as 'gay' when it is in fact lesbian, gay, bisexual and transgender, is a far stretch from the full inclusion we deserve," Schaefer said.
Politicians Demur
In 1991, former Mayor David Dinkins cited the policy as the reason why he declined an offer to lead the parade, and instead marched with a group of gay people who were permitted only as guests after Dinkins intervened. They were denied the right to march under a banner.
The group received slurs and was the target of hurled beer cans at points throughout the 40 blocks of the parade route, according to a report in the New York Times.
In 2013, former City Council Speaker Christine Quinn, who is of Irish descent and married to a woman, announced she wouldn't march. Quinn said she had participated in Dublin's celebration with a group that wore buttons stating they were Irish and LGBT, an abbreviation for lesbian, gay, bisexual and transgender.
"I have to believe that sooner rather than later, we will be able to put this issue behind us," she said then.
Today, Quinn said in an e-mail that, "the terrible mark of discrimination and bigotry has finally been lifted."
Before it's here, it's on the Bloomberg Terminal.
LEARN MORE