pursuits
Flash Boys Fame Sells Upstart Exchange IEX to Big Investors
By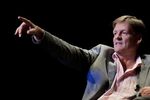 The upstart trading exchange touched by the magic wand of Michael Lewis has raised $75 million from investors that include Steve Wynn and Bain Capital Ventures.
IEX, a dark pool trading platform designed to be more transparent than other dark pools, opened in October. It was founded by Brad Katsuyama, the former RBC trader made famous in Flash Boys, Lewis's recent book. Like many other people and companies featured in Lewis's nonfiction, the immense publicity generated by the book has made Katsuyama and his little startup famous, leading directly to many investment dollars flowing in. The funding round brings IEX one step closer to becoming a registered exchange.
"More than a few of those investors became aware of IEX after the media blitz that attended the publication this spring of Flash Boys," according to a report in the New York Times. Spark Capital, Massachusetts Mutual Life Insurance, Franklin Templeton, and Netscape co-founder James Clark also invested.
Flash Boys drew attention, much of it critical, to high-frequency traders, which use hyperspeed computers and fiber optic lines to execute trades faster than other investors—sometimes, according to Lewis, jumping in front of their orders. The computer-driven trades are often done in dark pools, whose executions are not visible to the broader market. Some investors—hedge funds in particular—like to make trades in dark pools in order to keep what they're doing secret from competitors.
During the Flash Boys publicity tour, Lewis repeatedly said that the stock market is "rigged." A few months later, New York Attorney General Eric Schneiderman sued Barclays, accusing it of defrauding customers that use its dark pool. The Lewis publicity tidal wave and the lawsuit rocked the high-speed traders. It's rare that an industry suffers the kind of devastating PR that high frequency traders and dark pools have faced.
Not so for IEX, which has benefited immensely from the attention. Alex Finkelstein, a partner at Spark Capital, read Flash Boys as he lounged by a pool on vacation, according to the Times, and was shocked by what he read. "Is it that bad?" Spark asked a Wall Street trader sitting next to him. "It's worse," the trader replied.
As soon as he got home, Finkelstein called Katsuyama—one of many suddenly eager to invest in the new company.
Before it's here, it's on the Bloomberg Terminal.
LEARN MORE