Lesotho Premier Returns After Fleeing Due to Coup Attempt
Mathabiso Ralengau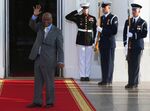 Lesotho's Prime Minister Thomas Thabane returned to the mountain kingdom guarded by the South Africa Police Service five days after he fled following an alleged coup attempt by the army, his political adviser said.
"The Prime Minister's security is that of South African police, not the Lesotho Defence Force, as was the case before he fled the country," Samonyane Ntsekele said today by phone from the capital, Maseru.
Thabane met today with the Head of State, King Letsie III, to discuss the crisis, Ntsekele said. South African police will help stabilize the country, he said. Police Commissioner Khothatso Ts'ooana today urged officers to return work. Most policemen stopped work after the army searched some of their stations.
Lesotho, an enclave within the borders of South Africa, has been in limbo since Thabane fled on Aug. 30, saying the army tried to overthrow him. Political tension has intensified since June, when Thabane suspended parliament until February, a move opposed by other coalition partners, including the Lesotho Congress for Democracy, which is led by Deputy Prime Minister Mothetjoa Metsing.
South African President Jacob Zuma mediated talks on Sept. 1 between the two leaders that resulted in an agreement to reopen parliament.
A former British protectorate that won its independence in 1966, Lesotho has previously suffered military coups. South Africa's apartheid government backed an army takeover in 1986, before a counter coup in 1991 allowed elections two years later.
In 1998, South Africa dispatched more than 600 troops to Lesotho as part of a regional effort to quell a mutiny by junior army officers. More than 60 people were killed, including South African soldiers.
Before it's here, it's on the Bloomberg Terminal.
LEARN MORE