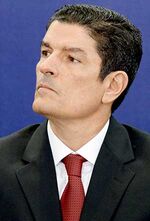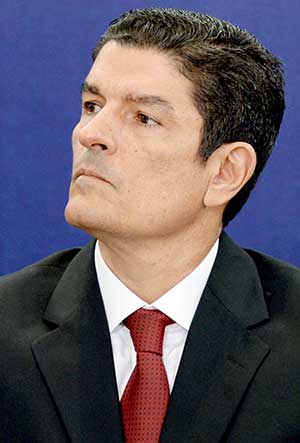 It's hard to know whether to envy or sympathize with Brazil's tourism minister, Vinícius Lages. While the summer's World Cup brought more than 1 million foreign visitors and about $7.5 billion in revenue, it didn't avert an economic slowdown or highlight much beyond soccer. With President Dilma Rousseff facing fierce competition from Marina Silva in October's national elections, it's not clear that Lages will get much chance to make his mark.
This hasn't stopped him from crafting a plan to recast Brazil's tourism brand. His goal isn't just to play off the World Cup in building buzz for the Rio Olympics in 2016. Lages wants to develop everything from craft-beer tours in Belo Horizonte and foodie-oriented attractions near the Amazon to international student programs.
"I would love to get Richard Branson to help design something here in Brazil," Lages says during a visit this week to Bloomberg's New York headquarters. "Look at what he has done with Virgin Galactic." The fact that Lages hasn't yet pitched Branson on any aviation-related ideas underscores the fledgling state of his planning.
Since taking over the tourism ministry in March, Lages has mostly focused on getting through the World Cup. The lesson of that experience, he says, is the importance of assertive public-relations and marketing strategies. "You do not want to lose a second to bad information," he says, referring to negative reports about security, construction delays, and expenses before the soccer tournament began in June. With the Rio Olympics less than two years distant, Lages thinks it's critical to develop a pricing strategy that's clear and transparent and will enable domestic travelers to get as much out of the Games as foreign visitors.
While Americans may be some of the biggest spenders when they come to Brazil, they're not his only priority. Lages has made three trips to China in the hope of luring more visitors, tour operators, and hotel chains. "China sent more than 100 million tourists outside its country last year," he notes, "and Brazil only got about 60,000 of them." He describes France as a role model in catering to Chinese tourists: "They've adapted their ATMs and made it easier to travel there. We need to do more things like that."
Getting the 200 million people who live in Brazil to spend more on enjoying their country and less on "buying diapers in Miami" is just as important, Lages says. "Our national parks only get 6 million visitors a year." Brazil also has too few man-made attractions, in his view. Instead of 12 theme parks, he would like to see at least 20—with fewer water slides in the mix and more focus on wellness, the auto industry, and Brazil's history.
And if the Oct. 5 national election doesn't go his leader's way? Lages says he is trying to "put in place a state policy, not a political policy." As he puts it: "Government can only do so much. We want public-private partnerships that will last for the next 10 years."
Before it's here, it's on the Bloomberg Terminal.
LEARN MORE