Glencore CEO Rebuffs Anglo American Bid Speculation
Paul Burkhardt and Jesse Riseborough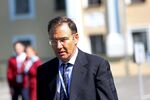 Glencore Plc Chief Executive Officer Ivan Glasenberg rebuffed speculation about a possible takeover of Anglo American Plc, saying the world's third-biggest miner is only interested in assets it already trades.
"With Anglo, we don't trade diamonds, if that gives you a good idea, and we don't trade platinum," Glasenberg told reporters in Johannesburg today. "We will only look at assets which we trade, which we market," he said in response to a separate question.
Glencore, the world's biggest exporter of power-station coal, completed the $29 billion all-share takeover of Xstrata last year to add coal, copper and nickel mines. Anglo American, the largest platinum producer, also controls copper, coal, iron ore, nickel and diamond mines and has a market value of about $36 billion. CEO Mark Cutifani is open to takeover offers, the Wall Street Journal reported yesterday, citing an interview with the Australian.
"Cutifani said someone's going to take him over, he's happy," Glasenberg quipped.
A Glencore bid for Anglo American is increasingly possible next year as the stock widens its outperformance over its smaller rival, Jefferies LLC analyst Chris LaFemina wrote in a report today.
'Compelling Target'
"This outperformance, combined with Glencore's completion of the full integration of the Xstrata acquisition and a strong strategic rationale for Glencore to acquire Anglo, should make Anglo a compelling target for Glencore some time next year," LaFemina said. "If Glencore offers Anglo a significant premium, this could be a compelling deal for Anglo American shareholders as well."
A Glencore offer of 5.3 of its shares for each Anglo share would imply a 25 percent premium to the current share price, according to Jefferies. The combination would generate cost savings of $1.5 billion annually. Regulatory approvals could present a hurdle, LaFemina said.
"Glencore would greatly increase its trading market share in some key commodity markets, including copper, coal and nickel," LaFemina said. "Anglo would also give Glencore a strong presence in the seaborne iron ore market which we would argue is an ideal market for commodity traders."
BHP Billiton
Glasenberg declined to comment on an offer for BHP Billiton Ltd.'s Nickel West operations in Western Australia. "There's a process taking place at Nickel West," he said.
Glencore is the only bidder for the nickel unit, offering between A$190 million ($177 million) and A$230 million, the West Australian newspaper reported today, citing people in the industry it didn't identify. BHP spokeswoman Emily Perry declined to comment.
BHP Billiton last month announced what could be the biggest spinoff in the mining industry, a new unit operating in five countries, including South Africa. It's premature to speculate on possible acquisitions or takeovers regarding the unit, Glasenberg said.
"They haven't even listed yet," he said. "Let them list, let's see what price it trades at. Let's see the value. It's a good set of assets."
Glencore is still talking to Brazil's Vale SA about combining both companies' nickel operations in Sudbury, Ontario, Glasenberg said.
"There are a lot of synergies," he said. "We're just struggling to get the negotiations moving as fast as we'd like."
Vale referred reporters yesterday to comments made by its base metals head, Peter Poppinga, on July 31, when he said the company was seeking a bottom-line approach in its talks with Glencore to combine operations in the Sudbury basin.
Before it's here, it's on the Bloomberg Terminal.
LEARN MORE