Deutsche Bank's Jain Sees ECB Running Out of Options
Nicholas Comfort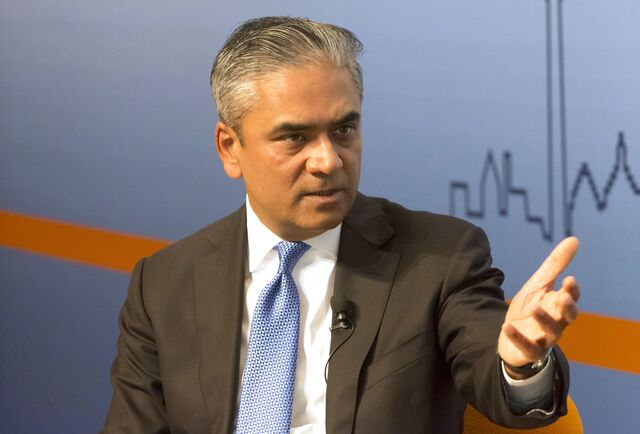 Deutsche Bank AG co-Chief Executive Officer Anshu Jain said it's up to governments to help shore up growth as the European Central Bank is running out of options.
"We're coming to the end of how much further central banks can stimulate the European economy," Jain, 51, said at a conference in Frankfurt today. "We need structural reform and we need credit creation. The imperative for structural reform is one the ECB has been harping on quite consistently."
The comments from the co-CEO of Germany's largest bank echo those of German Finance Minister Wolfgang Schaeuble as ECB President Mario Draghi signals the area may need more stimulus. Banks have a key role to play as companies rely on lending as a source of funding, with quantitative-easing measures such as bond buying seen having a limited effect, Jain said.
"If 70 percent of credit creation is happening via bank loans, by simply lowering the cost of sovereign debt, even mathematically, you cannot get growth to move beyond the point," Jain said, commenting on possible QE measures.
Stocks rose, the euro dropped and bond yields declined to records on Aug. 25 after Draghi acknowledged sliding inflation expectations and reiterated that the ECB "will use all the available instruments needed to ensure price stability over the medium term," pushing the central bank closer to QE.
'Significant Divergence'
Citigroup Inc. economists predicted last month the central bank will unveil a QE program in December valued at 1 trillion euros ($1.3 trillion), split between public and private assets and aimed at reducing borrowing costs and increasing liquidity.
Monetary policy "has come to the end of its instruments and therefore what we urgently need is investments, regaining confidence by investors, by markets, by consumers," Schaeuble said in an interview with Bloomberg Television last week.
While euro-region growth has come to a halt, a "rapid" U.S. economic expansion means "at some point in 2015 we will get the end to monetary easing in the U.S.," Jain said.
"You're going to get a significant divergence in monetary policy in the next 12 months," he said. "This is going to be one of the most watched and most important market developments we're going to get."
Before it's here, it's on the Bloomberg Terminal.
LEARN MORE