Cowboys' Josh Brent Gets 10-Game NFL Ban After Teammate's Death
Erik Matuszewski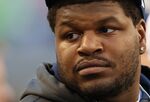 Dallas Cowboys defensive tackle Josh Brent, who spent six months in jail for a drunken car crash that killed his friend and former teammate, will have to serve a 10-game suspension before he can return to the National Football League.
Brent, 26, faced as long as 20 years in prison after jurors convicted him in January on a single count of intoxication manslaughter. The jury determined he was driving drunk on a December night in 2012 when his Mercedes struck a curb and flipped, killing Jerry Brown.
The 6-foot-2, 321-pound Brent, who has been out of the NFL for 21 months, has been suspended him without pay by the league until Week 11 of the regular season. The Cowboys have a Week 11 bye, so Brent's first game back could be Nov. 23 against the New York Giants.
Cowboys owner Jerry Jones said during training camp that Brent would have a roster spot waiting for him if he was cleared to play.
Brent is banned from the team facility and all activities for the first six weeks of the regular season, which begins for the Cowboys on Sept. 7 against the San Francisco 49ers. He's permitted to rejoin the team in Week 7 for meetings, conditioning and individual workouts, then could return to practices in Week 9 if he complies with the other terms of his conditional reinstatement, the NFL said.
Probation
Brent must fully comply with his court-ordered probation, testing and monitoring, as well as any required evaluation, treatment or counseling, the league said in a statement.
Brent failed a sobriety test with twice the legal amount of alcohol in his bloodstream the night of the accident, indicating he had the equivalent of at least 17 drinks. Brown's mother testified on Brent's behalf, telling the jury the defendant and her son were like brothers and that, while Brent is responsible, he deserves to be forgiven.
The NFL said any prohibited alcohol-related conduct for Brent would probably result in an immediate suspension and potential banishment from the league.
Brent was in his third NFL season, all with the Cowboys, when the crash occurred. He totaled 31 tackles, 1 1/2 sacks and one forced fumble in 39 games.
Before it's here, it's on the Bloomberg Terminal.
LEARN MORE