Coke's Honest Tea Goes First Into Keurig Lineup
by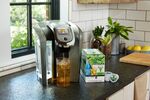 About half a year after announcing its partnership with Keurig Green Mountain, Coca-Cola is launching its first product for Keurig brewers. It's not a soda, as one might have expected since the alliance with the beverage giant coincides with the development of Keurig Cold machines. No, Honest Tea's green-and-black tea comes first, with K-Cups available for Keurig's existing hot-brewing machines.
Honest Tea, which Coca-Cola has owned since 2011, makes organic, fair trade, low-calorie iced teas. The Honest Tea K-Cups are intended to be brewed in the regular Keurig machines over ice.
The Keurig Cold machines, which will compete with other home soda machines, such as SodaStream's, won't make their debut until around October or thereafter. But the 10-year partnership between Keurig and Coca-Cola isn't waiting for the sparkling beverage machine. Coca-Cola's other noncarbonated brands that could be compatible with Keurig include Fuze tea, Vitaminwater, Hi-C, and Minute Maid.
"We're evaluating our portfolio to determine the right brands for availability on the Keurig hot-brewing system," says Coca-Cola spokesman Petro Kacur.
Before it's here, it's on the Bloomberg Terminal.
LEARN MORE