Chrysler Leads Gains in Best Auto-Sales Month Since 2006
Keith Naughton, Mark Clothier and Alan Ohnsman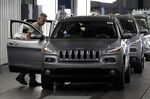 Chrysler Group LLC reported its best August for U.S. vehicle deliveries in 12 years, while Ford Motor Co., Toyota Motor Corp., Honda Motor Co. and Nissan Motor Co. also posted results that surpassed analysts' projections.
Chrysler sales rose 20 percent, Nissan deliveries rose 12 percent, and Ford's gained 0.4 percent. The annualized sales pace adjusted for seasonal trends rose to 17.5 million light vehicles, the fastest since January 2006, according to researcher Autodata Corp., exceeding the 16.6 million pace that was the average of analysts' estimates compiled by Bloomberg.
"There's no question buyers are flocking to dealerships," said Jeff Schuster, an analyst with researcher LMC Automotive in Southfield, Michigan. "We continue to see the market in a very strong position, beating expectations. As the auto industry pulls the economy along with it, we would expect to see this kind of performance for the remainder of the year."
Chrysler, wholly owned by Turin, Italy-based Fiat SpA, is on an unprecedented winning streak that now stretches to almost 4 1/2 years. As its Jeep brand benefits from consumers' renewed attraction to SUVs, the Auburn Hills, Michigan-based group also has been aided by strong demand for Ram trucks and Town & Country minivans. Group sales were projected to rise 12 percent. Jeep sales rose 49 percent in August.
'Torrid Pace'
"Our Jeep brand continued its torrid sales pace recording its best August sales ever and our Ram Truck brand contributed with a massive 39 percent sales increase, both helping Chrysler Group achieve its 53rd-consecutive month of year-over-year sales growth," Reid Bigland, head of U.S. sales, said in a statement.
Aided by cheap loans and rising consumer confidence, total light-vehicle sales rose 5.5 percent to 1.59 million, topping the average forecast for 1.5 million, even though the month had one fewer selling day than a year earlier when the pace was 16.1 million.
For the full year, analysts estimate deliveries of new cars and light trucks will rise to 16.3 million, the highest since 2006, when 16.6 million vehicles were sold.
Most automakers beat the analysts' projections. Nissan sales, predicted to rise 2.7 percent, jumped 12 percent. Ford, Toyota and Honda all reported surprise gains. Toyota deliveries rose 6.3 percent after they were projected to fall 3.3 percent, and Ford sales climbed 0.4 percent, beating projections for a 1.2 percent decline. Toyota, the world's largest automaker, outsold Ford in the U.S. for a second straight month. Ford remains No. 2 in the market for the year.
Accord Month
Honda sales including its Acura premium brand rose 0.4 percent to 167,038 last month, surpassing an expected 9.1 percent drop. The gain was led by 32 percent jump in Accord sales to a best-ever 51,075 deliveries.
The Accord surge made it the best-selling car in the U.S. last month, topping Camry for the first time this year. Toyota's mid-size model still leads in deliveries through August, with 306,471 sales to 271,426 for Accord. Ford said its Fusion sedan is on pace to top 300,000 annual sales for the first time.
Toyota's RAV4 compact crossover was the market's best-selling SUV with 35,614 units, topping the Honda CR-V's 34,079 deliveries.
Chrysler is preparing to officially combine with Fiat in October to create the world's seventh-largest automaker. Sergio Marchionne, chief executive officer for both companies, ordered an overhaul of Chrysler's lineup when he took control after Chrysler's 2009 bankruptcy. Now he's pressing his advantage with hot vehicle models and generous incentives that have it gaining ground on competitors such as Ford and Honda.
Chrysler Surprising
"Chrysler just continues to surprise us with the strength they have," said Michelle Krebs, senior analyst for researcher Autotrader.com. "The prospects weren't good for Chrysler coming out of bankruptcy, but Marchionne had a vision for where Chrysler could go and he continually pushed the company."
Nissan was the only other major automaker forecast to report an August increase. Its gains came as the Rogue had its best month since the small crossover utility vehicle was introduced, with 21,419 deliveries, up 24 percent, Japan's second-largest automaker said. Altima sedan sales rose 3.8 percent to 32,153 and deliveries of Leaf electric hatchbacks jumped 32 percent to a one-month record of 3,186, Nissan said.
"August's industry sales results are looking even stronger than anticipated, which is a good sign," Fred Diaz, Nissan's senior vice president for U.S. sales, said in a statement.
'Weaker Pricing'
Ford had its best August sales in eight years, with Fusion and Escape models setting records for the month. F-Series pickup sales fell 4.2 percent as the automaker closed one of the two factories that make the truck last month to begin preparations for a new, aluminum-bodied model. The Dearborn, Michigan-based automaker said it reduced incentives on its pickups by $650 in August for an average price of about $41,000.
Pricing "pressure" in family sedans helped to lower Ford's average prices by $450 per vehicle to about $31,000, Erich Merkle, the company's sales analyst, said on a conference call with analysts and reporters today.
"As baby boomers continue to become empty nesters, they seem to naturally flow into these small" SUVs, Merkle said. "Unfortunately, it pulls something from cars and that's where you're seeing some of the weaker pricing."
Sales declined 0.6 percent at Ford's Lincoln luxury line, led by a 22 percent plunge in deliveries of its MKZ, a redesigned sedan aimed at leading the brand's comeback.
Market Reaction
General Motors Co. sales slid 1.2 percent, worse than the 0.1 percent decline predicted by analysts, according to the estimates. While the Detroit-based automaker reported declines for three of its four brands, including an 18 percent drop by Cadillac, its profitable trucks did well. Chevrolet Silverado pickup sales rose 13 percent to 49,201, Cadillac Escalade SUV sales surged 89 percent and GMC Yukon sales more than doubled.
GM shares slid 0.9 percent to $34.47 at the close in New York, while Ford slipped 0.7 percent to $17.47.
Hyundai Motor Co., South Korea's largest automaker, and affiliate Kia Motors Corp., raised sales a combined 5.5 percent to 124,670, beating an expected decline of 0.9 percent. Hyundai's sales rose 5.9 percent, while Seoul-based Kia's were up 5.1 percent, the companies said in separate releases.
Low financing rates also are helping Chrysler and other automakers. Chrysler is offering no-interest loans for as long as 72 months on the 300 and 300C sedans, while Ford and GM are advertising similar financing on some models.
"Those are definitely getting attention from customers," Jessica Caldwell, senior industry analyst for Edmunds.com, said of the interest-free loans. "It's a strong month, and we've seen it pick up in the second half."
In addition to available credit, auto sales are being propelled by low gasoline prices and rising consumer confidence, LMC's Schuster said.
"The consumer is starting to feel better about the economy," he said. "People are looking at low gas prices and saying, 'Maybe I will buy that truck or SUV.'"
Before it's here, it's on the Bloomberg Terminal.
LEARN MORE