China's 'Birthplace of Kung Fu' Hopes to Lure CEOs for Meditation Training
Christina Larson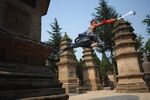 The ancient Shaolin Temple, perched on a leafy mountaintop in eastern China, is widely recognized as the birthplace of kung fu. For at least 1,500 years, its resident monks have preserved the physical and psychological training regimen of the legendary martial work. Now they're trying to master commercial arts, too.
The temple is hiring a media director and social media editor, according to state-run Chinese newswire Xinhua. "The need arises from an internationalizing Shaolin," a monk who works for the temple's "Intangible Assets Management Center" told the newswire. The ideal candidate would be versed in China's fast-growing social media platforms, especially Twitter-like Sina Weibo, as well as fluent in both Mandarin and English.
Shaolin already offers high-end, live-in meditation courses for chief executive officers willing to live on the mountain as martial arts apprentices for a month, as China Daily recently reported. For those with less time to spare, one-time sit-down sessions with the temple's abbot are also available. Earlier this year, members of the elite China Entrepreneurs Club attended a private conference at the temple with the theme "self cultivation of entrepreneurs."
Last year, about 800 foreign executives also came to study and train on the mountain. A marketing manager from Greece who came to Shaolin for a two-week course told the newspaper: "In business, you have to be flexible; you have to find new paths and change. You have to see a crisis and avoid it. Kung fu teaches you to be fluid, like water, because everything in kung fu flows, and stagnation is bad."
Once its social media marketing team is in place, Shaolin hopes to expand outreach to overseas business leaders who seek to cultivate kung fu mindfulness. Its courses are a relative bargain compared to executive MBA programs, ranging from $800 to $10,000.
Before it's here, it's on the Bloomberg Terminal.
LEARN MORE