Bankers See Debt Risks Mounting in Sweden as New Rules Loom
Johan Carlstrom and Niklas Magnusson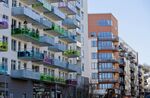 Sweden's bank industry said a proposal by the country's main opposition party to relax a cap on mortgages risks backfiring as the housing market continues to show signs of overheating.
The warning follows comments by Magdalena Andersson, economy spokeswoman for the opposition Social Democrats, who said last month she's willing to consider relaxing existing limits on mortgage lending if Sweden puts in place an amortization requirement. The latest polls show the opposition ousting Prime Minister Fredrik Reinfeldt's coalition by a margin as wide as 8 points in the Sept. 14 election.
"There is concern about the housing price development," Thomas Oestros, head of the Swedish Bankers' Association in Stockholm, said yesterday in a phone interview. "One would need to think very carefully before raising the mortgage cap."
Andersson says her party's aim is to make housing more affordable. Yet any plans to ease borrowing rules risk provoking a response from the central bank, which has signaled it may tighten policy should the government and regulator fail to curb record household debt.
Oestros said most economists monitoring Sweden's housing market lean toward tightening mortgage lending rules rather than easing them. "There is still a very rapid price development for apartments," he said. The association's members include Nordea Bank AB, Swedbank AB, Svenska Handelsbanken AB and SEB AB, Sweden's four biggest lenders.
Credit Growth
Home prices in the country have more than doubled since 2000, with the cost of both apartments and single-family homes rising an annual 7 percent in July, according to Svensk Maeklarstatistik AB, which compiles monthly house price data. Failure to curb property prices and debt growth could hurt Sweden's economy, both the central bank and International Monetary Fund have said.
Lending to Swedish households grew 5.5 percent in July, the fastest pace since October 2011, Statistics Sweden estimates. A report from the Financial Supervisory Authority today showed lending by the country's major banks to Swedish households grew 5.8 percent in the second quarter, while deposits rose 8.6 percent.
The central bank said today it kept its main rate at 0.25 percent to help drive inflation closer to its 2 percent target. Still, the bank warned that "low interest rates still entail risks linked to the high level of household indebtedness."
Debt Protections
"The mortgage cap is a kind of protection against over-indebtedness," SEB, whose Chief Executive Officer Annika Falkengren is chairman of the Swedish Bankers' Association, said in an e-mailed response to questions on Aug. 29. "The biggest obstacle for young people to enter the housing market is that there is a shortage of homes."
Adding to the supply of housing is a policy the Social Democrats have said they support. The party wants to inject 3 billion kronor ($428 million) into state-owned lender SBAB to finance new construction of rental and owner-occupied homes. It also wants to use SBAB to help lower the cost of home finance, Andersson said last week.
Oestros said any plans to ease lending rules are at odds with discussions in the industry focusing on how to address Sweden's household debt burden, which the central bank estimates is about 175 percent of disposable incomes, the highest ever.
"What's mainly being discussed in society is to try to damp lending and this measure in isolation would instead perhaps increase lending," Oestros said. "I think one would need to assess and calibrate this very carefully."
Before it's here, it's on the Bloomberg Terminal.
LEARN MORE