Asian Stocks Climb to One-Month High on China Data
Jonathan Burgos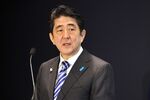 Asian stocks rose, with the benchmark index rising to its highest level in a month, as reports showing faster growth in China's service industries and U.S. manufacturing boosted optimism in the world's biggest economies.
The Hang Seng China Enterprises Index of mainland shares traded in Hong Kong jumped 3.2 percent, its biggest rally since November. Sony Corp., the maker of PlayStation game consoles that gets more than 70 percent of revenue outside Japan, climbed 2.7 percent as the yen touched the weakest since January. China Mobile Ltd. rose 3.8 percent in Hong Kong after a report the world's biggest phone company by users started taking preorders for Apple Inc.'s iPhone 6.
The MSCI Asia Pacific Index advanced 0.8 percent to 149.05 as of 11 p.m. in Hong Kong, for its highest level since July 30. The gauge rebounded 14 percent from a February low through yesterday amid signs the U.S. economy is strengthening and as China's policy makers introduced stimulus measures.
"A strong U.S. economy is good for Asia, particularly the exporters," Timothy Radford, a strategist at Rivkin Securities in Sydney, said by phone. "The rally in Japanese equities can be sustained as the the yen continues to weaken. There are still concerns about the Chinese economy as recent data have been disappointing. If we do see further weakness, we'd expect the government to implement more stimulus."
Hong Kong's benchmark Hang Seng Index climbed 2.3 percent to its highest close since May 2008. China's Shanghai Composite Index advanced 1 percent. Turnover on the two bourses, which are scheduled to start a trading link next month, was at least 30 percent higher than the 30-day average.
Services Reports
An official China non-manufacturing purchasing managers' index for August rose to 54.4 today, from a six-month low of 54.2 in July. A similar gauge by HSBC Holdings Plc and Markit Economics posted its highest reading since March 2013.
The rebound in services bolstered optimism China's government is succeeding in shifting its economy away from exports and investment toward domestic consumption. Only one stock on the 40-member Hang Seng China Enterprises Index declined today.
"The good sentiment in the market continues today after the release of a solid non-manufacturing PMI," Gerry Alfonso, a trader at Shenyin & Wanguo Securities Co., said by e-mail. "Some market participants interpret solid non-manufacturing PMI figures as an indication that the economic reform is yielding the desired outcomes."
Japan's Topix index rose 0.4 percent, paring this year's loss to less than 0.1 percent. Trading volume on the Topix was 27 percent higher than the 30-day average today. The yen touched 105.31 per dollar, the weakest since Jan. 10, before reversing its drop. Prime Minister Shinzo Abe appointed a new cabinet, naming pension-reform advocate Yasuhisa Shiozaki as health minister overseeing the world's biggest retirement fund.
Regional Gauges
Taiwan's Taiex index added 0.5 percent. India's S&P BSE Sensex index rose 0.5 percent. Singapore's Straits Times Index climbed 0.6 percent. New Zealand's NZX 50 Index gained 0.1 percent. South Korea's Kospi index closed little changed.
Australia's S&P/ASX 200 Index slid less than 0.1 percent. The nation's economy expanded at a slower pace in the second quarter, underscoring the central bank's bias to keep interest rates at a record low to boost domestic demand.
Russian President Vladimir Putin and his Ukrainian counterpart Petro Poroshenko agreed on a cease-fire. The Standard & Poor's 500 Index lost 0.1 percent yesterday, retreating from an all-time high, as energy producers sank with the price of crude to offset data showing U.S. manufacturing expanded at the fastest pace in three years.
U.S. Manufacturing
The Institute for Supply Management's index unexpectedly climbed to 59, the highest level since March 2011, from July's 57.1, beating all forecasts in a Bloomberg survey of economists. The orders gauge was the strongest in a decade, the Tempe, Arizona-based group reported yesterday.
Japanese exporters advanced. Sony gained 2.7 percent to 2,073 yen. Honda Motor Co., a carmaker that gets more than 80 percent of sales outside Japan, added 0.9 percent to 3,552 yen. Panasonic Corp., a maker of home appliances and industrial equipment, advanced 1.8 percent to 1,311 yen.
Yokogawa Electric Corp. jumped 9.1 percent to 1,356 yen, its biggest advance since February 2010. JPMorgan raised its rating to neutral from underweight and increased its share-price forecast to 1,380 yen from 1,160 yen.
Renesas Electronics Corp. surged 17 percent to 1,024 yen after the semiconductor manufacturer said Innovation Network Corp. of Japan's stake in the company is too large. The comment suggests INCJ, a government-backed fund, and others are willing to sell down their stakes because Renesas has been successful in restructuring, said Damian Thong, a Tokyo-based analyst at Macquarie Group Ltd.
China Mobile jumped 3.8 percent to HK$101.70 in Hong Kong, its highest since August 2008. China Daily reported that the company started taking preorders for iPhone 6 and Macquarie Group Ltd. lifted its rating on the shares to outperform from neutral.
Before it's here, it's on the Bloomberg Terminal.
LEARN MORE