Zimbabwe Crisis Sees Pensioners Rear Chickens, Do Odd Jobs
Brian Latham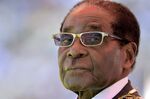 Retired Zimbabwean lower court judge Faison Jambgwa sits at a child's school desk outside a shop in the northern town of Mvurwi notarizing government documents.
Jambgwa's ad-hoc notary work and a small vegetable garden at his home allows him to survive, the 73-year-old, wearing a worn white shirt and a tartan jacket, said in an interview in the farming town, 105 kilometers (66 miles) north of Harare, the capital where he once worked. Like thousands of other Zimbabweans, Jambgwa doesn't receive the pension he's due because the government hasn't decided how convert it into U.S. dollars after abandoning in the Zimbabwe dollar in 2009.
"If the bad times hadn't happened, I'd be comfortable in a house in Harare living off my pension," he said on Aug. 19. "But the bad times did happen, so I live in the township here struggling."
Today many Zimbabweans must work well into old age or rely on remittances from relatives who fled to countries including South Africa, Botswana and the U.K. When President Robert Mugabe's government started an often violent campaign to seize mainly white-owned commercial farms in 2000 for redistribution to black subsistence farmers, exports plummeted and inflation accelerated to 500 billion percent in 2008, according to the International Monetary Fund. That wiped out the value of pensions and salaries of those with jobs.
Under a policy known as indigenization, the government is now threatening to compel foreign-owned miners such as Anglo American Platinum Ltd. and banks to cede control of their businesses.
"I feel sad and angry," Jambgwa said. "The country took a path that wasn't necessary. Government could've approached indigenization and the farms with less anger and violence."
Increased Poverty
The situation deteriorated to the point that in December 2008, a hundred trillion Zimbabwe dollars bought three eggs.
The following February the government brought inflation to a standstill overnight by abolishing the national currency. Zimbabweans were allowed to trade and bank in currencies including U.S. dollars and the South African rand, a move that re-stocked shop shelves that had been largely empty for two years. The problem is finding the money to buy the goods. The World Bank says 72 percent of Zimbabweans live in poverty.
Dorothy Pamushaya, a retired 75-year-old government administrator, lives in the servants' rooms at the back of her three-bedroom house, which she rents to diplomats in Harare.
"My pension stopped coming about six years ago, when it was worth less than the stamps on the envelope," she said.
Economic Collapse
After the collapse of the economy, which last year was less than half its size in 2000, job opportunities were scarce and millions of people moved to South Africa, Botswana and the U.K., the former colonial power, seeking work.
Zimbabweans in South Africa often enjoy advantages over local citizens because of their often superior education. After the end of the white-minority government of Rhodesia in 1980, Mugabe's government spent 23 percent of the national budget on education and propelled Zimbabwe's literacy rate to the second-highest in Africa after Seychelles. Even today, 97 percent of Zimbabwe's children are in school, according to the World Bank.
Zimbabwe's current liquidity crunch, caused by factory closures and declining employment, threatens a second recession after five years of relative stability. Economic growth has slowed to an estimated 3.1 percent this year, compared with an average of 10 percent between 2009 and 2012, according to the IMF.
State Salaries
It has also forced thousands of working-age Zimbabweans to take two or more jobs in a country where most state workers earn from $350 to $600 a month. The minimum wage in agriculture is $100 a month.
"You can't survive on a teacher's salary in Zimbabwe, almost every teacher has a small side-business or relies on relatives outside the country to send money each month," Esnat Jecha, 39, said at her three-roomed house behind a primary school in Guruve, a small-scale farming district in northern Zimbabwe.
Jecha, a mother of three, rears 100 broiler chickens a month to sell at stores and earns more than double her $400-a-month salary.
Such is the dependence of Zimbabweans on informal jobs that the Finance Ministry estimates the underground economy is about 64 percent as big as the official gross domestic product.
Hawking Potatoes
Oliver Sando, a 34-year-old father of two primary school children who earns $500 a month as a driver for an Italian foreign aid organization, grows vegetables in Domboshawa, a village about 27 kilometers north of Harare, to supplement his income.
"Salaries are low; it's not because we are being cheated, it's because there's no money in Zimbabwe," he said while showing pots of sweet potatoes his family hawks on the side of the road. A five-liter (1.3-gallon) bucket of the tubers sells for $5, a small pot for a $1.
"It helps meet costs of school fees and uniforms, but it leaves no fat to live on," he said. "Each month is a struggle."
Jambgwa, sheltering from a biting winter wind behind a wall, says he's resentful.
"I worked hard my whole life bettering myself," he said. "All that hard work didn't pay off because after the bad times, all my savings were destroyed, my pension destroyed, by inflation."
Before it's here, it's on the Bloomberg Terminal.
LEARN MORE