Visiting Japan, India's Modi Pokes at China
By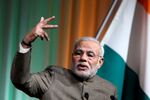 Japanese Prime Minister Shinzo Abe has been courting Narendra Modi for years, even welcoming the controversial Indian politician when officials from the U.S. and Britain wouldn't meet with Modi because of concerns about his actions during anti-Muslim rioting in 2002 in Gujarat, where he was governor. Abe hosted Modi during the Japanese politician's first term as prime minister in 2007 and then again when Abe was opposition leader in 2012. The courtship even extends to social media, where Modi is one of only three people Abe follows on Twitter.
Now, as Abe looks for allies to help counter China, he clearly hopes ties to the Hindu nationalist will pay off for Japan. "Mr. Modi is an old friend of mine," Abe reminded everyone on Monday, following their meeting in Tokyo. The relationship between Japan and India has more potential than any other, he added, saying his goal was to create "a special strategic and global partnership."
To drive that point home, Abe offered to loan India ¥50 billion ($480 million) for infrastructure projects and said Japanese public and private investment and financing in India would total ¥3.5 trillion in five years.
No wonder that Modi seems happy to play along. In a speech yesterday, India's prime minister seemed to align himself with Japan in that country's long territorial dispute with China. "The world is divided in two camps," he told business leaders in Tokyo. "One camp believes in expansionist policies, while the other believes in development. We have to decide whether the world should get caught in the grip of expansionist policies or we should lead it on the path of development and create opportunities that take it to greater heights."
Modi didn't meed to mention China by name. When a leader travels to Tokyo and criticizes countries for being expansionist, that leader has one country in mind—the nation confronting Japan over disputed islands in the East China Sea, the one roiling Southeast Asia by claiming nearly all the South China Sea as its territory, the one that has had a longstanding border dispute with India.
China isn't happy, but it's unwilling to accept that Abe has succeeded in winning Modi to Japan's side. China's official media has been remarkably mild in its criticism of Modi's statement, instead focusing on the Japanese prime minister's alleged delusions. Abe's talk of a strategic alliance with India is nothing but "a crazy fantasy generated by Tokyo's anxiety of facing a rising China," the Global Times, the tabloid of the People's Daily, editorialized on Tuesday.
There are limits to how close India and Japan can become in attempting to counter China. As India's largest trading partner, China accounts for nearly 10 percent of its total commerce, more than four times that of Japan, Bloomberg News reported. And there's no escaping China if you're an Indian politician. To get to Tokyo from New Delhi, Modi and his entourage needed to fly nearly nine hours, while China and India share a long border.
"What is involved in China-India relations denotes much more than the display of the blossoming personal friendship between Modi and Abe," said the Global Times editorial. "After all, Japan is located far from India. Abe's harangue on the Indo-Pacific concept makes Indians comfortable. It is South Asia where New Delhi has to make its presence felt. However, China is a neighbor it can't move away from. Sino-Indian ties can in no way be counterbalanced by the Japan-India friendship."
Before it's here, it's on the Bloomberg Terminal.
LEARN MORE