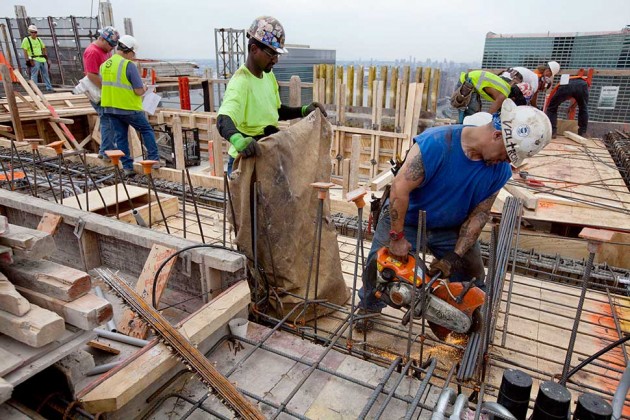 While unions across the U.S. are suffering membership declines, a study has found that unionization in New York is on the rise.
The share of New York City's workforce that belongs to a union has risen to almost a quarter—24 percent—according to an analysis of 18 months of federal Current Population Survey data on public and private sector workers by Ruth Milkman and Stephanie Luce of the City University of New York Graduate Center. That's higher than the 2012 rate of 21.5 percent, and it's higher than in any other major U.S. city. New York State also experienced an increase in union density, to 24.6 percent, the highest rate of any U.S. state and more than double the national rate.
The increase can't be credited to high-profile union efforts to organize in non-union industries such as fast food. Instead, the study's authors say, it seems to be driven by growth in historically unionized sectors like construction and the hotel and building services industries. "Bastions of unionism" that suffered heavy job losses in 2008 and 2009 are now increasing their workforces as they recover business. "In other parts of the country," says Milkman, "those bastions don't exist to the same extent."
This means that the union membership increases probably won't be replicated outside places like New York. Many of the fastest-growing sectors of the national economy are overwhelmingly non-union, including the fast-food and retail sectors in which companies have recently faced high-profile protests and strikes. The more those industries grow, the lower overall unionization rates will sink, unless workers in those industries turn those positions into union jobs, as hotel and construction workers did decades ago. Even in New York, says Milkman, trends don't point to big increases in unionization across the board. "There are people attempting to do it, but they haven't got big numbers to show for it," she says. "At least not yet."
Before it's here, it's on the Bloomberg Terminal.
LEARN MORE