Revel Closing Shows Gambling Is No Sure Thing for Renewal
Christopher Palmeri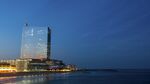 The Revel Casino Hotel was envisioned as a playground for Wall Streeters who hated flying to Las Vegas. Instead, it's become a money pit for the banks and money managers who spearheaded the New Jersey project, and the losses will keep coming even after closing today.
The Atlantic City resort, built at a cost of $2.4 billion, ceased operations after two bankruptcies and a 10-month search for a buyer. Barring a sale, the new owners may be Wells Fargo & Co. and JPMorgan Chase & Co., which provided $125 million in court-approved funding. Previous backers also included Capital Group Cos., the third-largest manager of U.S. mutual funds, and Morgan Stanley, the original investor.
The resort fell prey to poor timing, bad design and a misreading of the local market. The Revel saga shows what can go wrong when bankers stray from what they know, according to Charles Geisst, a professor of finance at Manhattan College in New York and author of the book "Wall Street: A History."
"The check-in desk at Revel was on the 11th floor, reached by escalator," Geisst said in an e-mail. "That's not planned or invested in by someone who understands the hotel business."
It's also a case study that has implications for Governor Chris Christie and other local leaders as they ponder what's next for Atlantic City in a summit scheduled for Sept. 8. A future beyond gambling might be the answer.
Name Recognition
Donald Trump, whose brand once topped three Atlantic City casinos, sued last month to get his name removed from the remaining two properties.
"I see what's happening in Atlantic City; it's just too much competition," Trump said in an interview with Bloomberg Television's Trish Regan. "There's too much pressure from Pennsylvania, Maryland, and ultimately everybody's going to do badly because they're looking at casinos as a panacea."
Revel's early champion was Michael Garrity, a principal in Morgan Stanley's private-equity arm in the mid-2000s, and before that an analyst at Putnam Investments and an investment banker at Rothschild Group.
Morgan Stanley backed Revel to bring a more upscale casino to the northeastern U.S., Garrity told New Jersey regulators at a 2012 licensing hearing, before its April opening.
"I've spent a lot of years on Wall Street," Garrity said. "What's always amazed me, the thousands of traders, analysts, private-equity guys, bankers that will jump on a plane, fly four to five hours to Vegas, lose the day on the way back. Because they're gamblers? No. Because they want to have fun. And that was really the premise behind Revel."
Garrity couldn't be reached for comment. Wells Fargo, Capital Group, JPMorgan and Morgan Stanley declined to comment.
Initial Stumble
Revel stumbled before it opened. Morgan Stanley had $800 million in the project when the 2008 financial crisis hit. Kevin DeSanctis, a casino veteran and the resort's first chief executive, met with bank officials and told them they would be in a better position to complete the project down the road if they invested $480 million to finish the structural work, according to his testimony at the same 2012 hearing.
New York-based Morgan Stanley ultimately put in more than $1.2 billion, before writing off Revel and selling its interest for $35.5 million to an investor group led by DeSanctis in 2011.
DeSanctis raised $1.15 billion from a new set of lenders led by JPMorgan to finish the development. To bolster the financing, New Jersey agreed to provide $261 million in tax credits as part of Christie's push to reverse Atlantic City's declining fortunes.
Fresh Capital
With new funds, construction of the 47-story property resumed. DeSanctis held off finishing 500 of the planned 1,900 hotel rooms, expecting to complete a more-exclusive boutique section with a separate elevator at a later date.
"We've already talked to several folks who are very interested in doing that," DeSanctis, formerly with Penn National Gaming Inc. and Mirage Hotel Resort & Casino, told regulators at the 2012 hearing.
DeSanctis, reached by e-mail, declined to comment.
More challenges loomed. Cost overruns topped $100 million, forcing Revel to seek additional funds shortly after opening, according to a June declaration in bankruptcy court by Shaun Martin, the company's chief restructuring officer.
Revel had to supply its own electricity, and entered into a costly 20-year agreement requiring it to pay power plant operating expenses and a 15 percent guaranteed return to a third party, ACR Energy Partners.
Gastro Pub
The resort, which opened in April 2012, features 2,300 slot machines, two nightclubs, two theaters and 13 restaurants, including Amada, an Andalusian tapas bar, and the Mussel Bar & Grille, a "gastro-pub with Belgian flair," according to marketing materials. The property includes five pools and a "SkyGarden" with 20,000 trees and plants.
In targeting high-end, overnight guests, Revel skipped the amenities that Atlantic City's traditional customers look for, Martin said. The resort didn't have a lounge for frequent gamblers or affordable food and beverage options.
Hurricane Sandy closed Atlantic City for six days in late 2012. Short of cash and running at a loss before any interest costs, Revel tapped investors for $150 million that December, according to a statement, and in March 2013 filed its first bankruptcy petition.
Debt Erased
In that restructuring, Revel wiped out 82 percent of its $1.5 billion in debt. Funds affiliated with Chatham Asset Management LLC, Canyon Capital LLC and Capital Group ended up with the equity. DeSanctis stepped down and interim CEO Jeff Hartmann, former president of the Mohegan Sun casino, took over.
Canyon Capital declined to comment. A spokesman for Chatham said it exited the investment in May.
In June, Revel filed for bankruptcy a second time. If a buyer can't be found, some creditors may be wiped out, while others are left with the cost of maintaining a dormant building.
Revel made efforts to broaden its appeal, ending its smoke-free policy, opening two lounges for VIPs and introducing Relish, a 24-hour cafe with fried shrimp and French fries for $5.99.
"It's a beautiful resort, you have to have a seven-day-a-week plan," Hartmann said in a telephone interview last month. "People are looking for quality food at a reasonable price point."
'Gamblers Wanted'
Hartmann added the word "casino" to the property name and introduced a marketing slogan: "Gamblers wanted." He started a controversial promotion promising to refund slot machine losses greater than $100 for the month of July. A lawsuit claims Revel didn't make it clear the refunds would be paid out over 20 weeks in casino credit.
In October, Revel's board named Scott Kreeger, a former executive with Station Casinos, as chief operating officer. Hartmann left. Kreeger wasn't available for comment, said Lisa Johnson, a spokeswoman.
Design flaws remain a challenge, according to Robert Heller, chief executive officer of Spectrum Gaming Capital LLC, an investment bank in New York. They include a "bland" front entrance, little pedestrian activity at Revel's northern end of the city's boardwalk and long escalators that older patrons find "intimidating."
"People want to move quickly through spaces," Heller said in a telephone interview. "Vertical in casinos is never a good thing."
Patrons could access the lobby and casino by elevator said Johnson.
City's Decline
Revel's failure shows how "the best and the brightest, the smartest guys in the room" misjudged the market and the pace of Atlantic City's decline, according to Izzy Posner, executive director of the Lloyd D. Levenson Institute of Gaming, Hospitality & Tourism at Richard Stockton College of New Jersey.
Casino revenue in the city, which introduced gambling as an economic development tool in 1978, is down more than 40 percent to $2.86 billion from the 2006 peak as neighboring states entered the business. Four of the city's 12 casinos have closed or are slated to close by mid-September. Caesars Entertainment Corp.'s Showboat shut down Aug. 31.
Atlantic City's casino revenue is expected to decline to around $2 billion annually, Alex Bumazhny, a Fitch Ratings analyst, said in an Aug. 29 report. About half of Revel's business will transfer to other casinos in the city, with those located away from the boardwalk -- Boyd Gaming Corp.'s Borgata, Landry Inc.'s Golden Nugget and Caesars Entertainment Co.'s Harrah's -- seeing most of the benefit.
Local officials, including Mayor Don Guardian and state Senator Jim Whelan, say someone will pick up Revel for pennies on the dollar.
"Hopefully it'll be a real casino company," Whelan said.
Before it's here, it's on the Bloomberg Terminal.
LEARN MORE