London Airport Study Calls Time on Boris Island Proposal
Kari Lundgren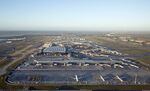 London Mayor Boris Johnson's plan to close Heathrow airport and build a new hub on a peninsula in the Thames estuary was dismissed by an official study as too expensive and complex to address Britain's aviation needs.
A four-runway hub on the Isle of Grain 40 miles east of London could cost above 120 billion pounds ($116 billion) and would cause huge economic disruption while posing potentially insurmountable environmental concerns, Airports Commission Chairman Howard Davies said today. He'll now examine plans to expand Heathrow or establish a secondary hub at London Gatwick.
"There are serious doubts about the delivery and operation of a very large hub airport in the estuary," Davies said in a report on why the proposal had been dropped from a shortlist of options for adding new airport capacity by 2030. "We need to focus on solutions which are deliverable, affordable and set the right balance for the future of aviation in the U.K."
For Johnson, the state-appointed body's findings come as a blow weeks after he announced plans for a return to national politics in a move that could presage a bid to succeed David Cameron as Prime Minister. The Conservative politician, who opposes Heathrow's development because of the extra aircraft noise, said today that Davies had rejected the "only credible option" and that his future work will "become increasingly irrelevant" and unlikely to win government backing.
'Thorough Assessment'
Still, the Department for Transport praised the commission "for carrying out such a thorough assessment of the inner Thames estuary proposal," adding in a statement that today's report marks a milestone in Davies's work program before final recommendations are presented next summer.
The Airport Commission findings should mean that the Thames estuary option is now "sensibly ruled out for good," according to a statement from the British Air Transport Association, which represents U.K. airlines including British Airways, EasyJet Plc and Virgin Atlantic Airways Ltd.
Davies initially came out in favor of growth at Heathrow or Gatwick last December, while agreeing to review the estuary plan's merits amid lobbying from Johnson. His commission isn't due to make final recommendations until after the 2015 election.
Heathrow Airport Ltd. Chief Executive Officer John Holland-Kaye said following publication of the report that he wants to work with Johnson on expanding his hub to benefit the whole country while curbing the impact of noise on residents.
'Important Juncture'
Europe's busiest airport attracted 72 million passengers last year despite being restricted to just two runways as carriers switched to bigger planes to help eke out capacity. Proposals for a 14 billion-pound expansion include constructing a third landing strip or extending an existing one.
Gatwick CEO Stewart Wingate said in an interview that the Davies study is "absolutely credible" and "an important juncture in the aviation debate." The world's busiest single-runway airport, owned by Global Infrastructure Partners, says it could build a second strip for as little as 5 billion pounds.
Conservatives on the Greater London Authority meanwhile rejected Davies's comments on the mayor's plan, commonly known as "Boris Island," saying in a statement that the government "should pull the plug" on what was now a "failed" study.
Kryptonite
Johnson said that any final recommendation based on the expansion of Heathrow would be "political Kryptonite" and that Davies -- a former Financial Services Authority chief appointed by Cameron to help depoliticize U.K. aviation planning -- appeared to have been deterred from backing the estuary plan "simply because of its sheer scale and vision."
The commission "has taken the debate back to two options that have been on the table for half a century without ever reaching take-off," the mayor added.
Davies said he had reached his conclusions after four independent studies were carried out to assess the estuary pitch. Hurdles included dislocation and economic challenges associated with closing Heathrow, finding record levels of new habitat to offset destruction of salt marshes and mudflats of global importance to migratory birds, and concerns about how the hub would coexist with a nearby natural gas facility.
Taxpayer costs from a Thames airport would be in the range of 30 billion pounds to 60 billion pounds, the commission said, while travel times would be extended by 19 minutes on average, based on the existing distribution of passengers.
Employment Links
In a letter to Johnson last week, Heathrow's Holland-Kaye called on the mayor to back his airport as the best alternative to an estuary hub. Johnson appeared to soften his stance when writing in the Daily Telegraph newspaper yesterday, saying that rather than be demolished, as he'd initially proposed, Heathrow might be retained as a secondary airport similar to Paris Orly.
Though Johnson's anti-Heathrow stance revolves around the impact of aircraft noise on local residents, the west London constituency of Uxbridge and South Ruislip where he plans to stand at the next election has strong economic and employment links to the hub while being relatively unaffected by flights.
The Confederation of British Industry said in a report yesterday that lawmakers should back development of a single U.K. hub to maximize transfer traffic vital to making new services viable and improving trading links with emerging markets. The stance effectively backs growth at Heathrow rather than a twin-base system that would also expand Gatwick.
Heathrow has said it could add 40 new destinations with a third 2.2-mile landing strip west of existing terminals and serve the whole U.K. thanks to its location and rail links. New capacity would lift long-haul routes almost 50 percent to 122 and keep the airport ahead of rivals, allowing 740,000 flights a year, 40,000 more than Paris Charles de Gaulle and Frankfurt.
Davies is also assessing a second Heathrow option proposed by ex-Concorde pilot Jock Lowe which would extend an existing runway to allow jets to take off and land at the same time. The plan could provide as many as 700,000 annual flights.
A two-runway Gatwick would deliver 40 billion pounds more in economic benefits and add 120,000 jobs, the airport, south of London, said in May. Aircraft noise would affect 14,000 people, versus 240,000 impacted today at Heathrow, it said.
Before it's here, it's on the Bloomberg Terminal.
LEARN MORE