Hamptons Scene: Gurney's Extends Season Under Chef Levine
Amanda Gordon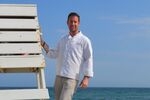 While the helicopter noise is lessening and Surf Lodge's line-ups are dying down, Montauk is still cranking for Seth Levine.
"Just because Labor Day is here doesn't mean I stop," Levine, executive chef at Gurney's Montauk Resort and Seawater Spa, said on his way to a meeting to discuss this fall's menus. "Gurney's will have three weddings a week in September."
For the owners that bought Gurney's last year, making sure it thrives as a four-season resort will be critical to its success -- and a point of distinction from summer-only Montauk entrants.
As newer venues gained huge followings, Gurney's, constricted by a time-share structure, sat aging. It's a big project to undertake, given the resort sprawls over 11 acres and some of the decor is a reminder that Montauk wasn't always as hot as Brooklyn.
Elsewhere on the tip of the South Fork, this one-time haven for surfers and fishermen has been infiltrated by tastemakers (Ralph Lauren led the pack), Ruschmeyer's adult summer campers and young visitors who dance an afternoon away at Surf Lodge, where Zoe Kravitz performed with her band Lolawolf on Saturday.
With new owners, components put in place to go after all-year business at Gurney's decades ago are getting a much-needed sprucing up. The indoor saltwater pool was replaced, while the spa locker rooms are slated for renovation. Some 38 hotel rooms are new, top to bottom, including heated bathroom floors. The main dining room has been redone, and the peach-colored banquet hall is next to be gutted.
Celebrity Guests
Levine, 34, has a key part to play, said owner George Filopoulos: Good food is essential for the new owners' upscale vision for the resort (those new rooms go for more than $1,000 on a July weekend, $400 in December). Gastronomy is also a selling point for booking special events and conferences, as well as romantic (if deserted) winter getaways.
Levine has passed his first test, getting through the summer with rooms fully booked and a healthy share of weddings, birthdays and other events, as well as celebrity guests including Diane Kruger and Joshua Jackson.
The July 4 holiday was "one of the hardest weekends I've had in my entire career," Levine said.
Bonfire Parties
It included the Shark Attack event hosted by photographer Ben Watts, maker of Watts Up Rose and brother of Naomi Watts; another party featuring the electro-funk duo Chromeo, and a large group staying in the hotel, whose host stipulated all-private dinners under a tent, breakfasts on the deck and beach bonfires.
"I did pass out the next day, for around 17 hours," Levine said.
Levine broke up his Hamptons summer with frequent jaunts, usually by car (a new Mercedes), to tend to his New York restaurants. He's executive chef and a partner at Hotel Chantelle on the Lower East Side and Penthouse808 in Long Island City, and also executive chef at the comedy club The Stand in Gramercy.
These aren't resorts, but they are relevant to the Gurney's revamp as venues where food and setting mix to produce a fun, social, restaurant-meets-nightclub experience, the kind that the gregarious Levine seems cut out for.
Men's Loubis
Penthouse808 has a view of the East River, while Hotel Chantelle has an outdoor rooftop -- no ocean, but both resort-like by city standards. Here Levine serves up appealing cuisine with whimsy, as in Penthouse808's Sword of Sword, grilled swordfish served on a sword -- a nod to Game of Thrones.
With that sense of humor comes style, too. When he cooks, he wears $2,000 Louboutin loafers adorned with metal spikes.
"Batali has his Crocs -- I had to step it up," Levine said on a Sunday in mid-July at Gurney's, when he was off-duty in jeans and camouflage canvas slip-ons.
Levine took his post at Gurney's in the spring. For about a month and a half he was there almost full-time, working with the existing staff to implement 14 menus. Two of his mandates were to provide something for everyone and offer enough choice that a week-long guest wouldn't be tempted to leave the property. Hence, two different lobster rolls.
"It's definitely one of the bigger projects I've done," Levine said.
Foie Waffles
There's no Sword of Sword, though some dishes will be familiar from his other venues, like a lobster macaroni and cheese. Adding sushi also proved to be a winner: Actor Adrian Grenier had his delivered to his beach cabana.
In the Market, off the lobby, Levine himself has gone behind the counter to serve dairy-free DF Maven ice cream flavors like Peach Bellini, custom-made for Gurney's. Those who order oysters at the Beach Club restaurant can also sample cucumber and celery sorbets.
Foie gras and waffles, Levine's take on chicken and waffles, is a favorite on the dinner menu at Seawater Grill, the resort's main restaurant. It comes with mini-waffles topped by slices of pan-seared foie, with a zigzag of raspberry jam on the plate to mix in.
"The waffle has mint, chives, a little tarragon, a little chervil, some Parmesan cheese, with a regular waffle batter that definitely has a sweetness to it," Levine said with the elan of Willy Wonka (the main character in his favorite movie). "It almost takes like cake."
Ex-Goldman
Levine started cooking as a kid in Great Neck, Long Island. "There was no Food Network, so I was watching PBS and I was writing down the recipes as fast as I can. I remember my first one was vichyssoise soup. I only got half of it down. So my mom took me to the grocery store and we got potatoes and, was it onions? It was leeks, but I made it with onions and it was good. I was seven years old."
Levine studied cooking in Florence, and after college took a job as a specialist at Spear, Leeds & Kellogg, which was bought by Goldman Sachs. He worked there until 2007, cooking for colleagues on the side.
"Finance will be a hobby of mine for life," Levine said. "It was never my passion. It's hard to love. There are huge swings: you're up $1 million one day, down three the next, there's so much emotion involved in that. And, obviously, we see the most strung-up people are usually in finance."
Ditching Banking
"To me it was -- enough. The market took a dive, the bonuses were changing and life was not the same as it was. And I thought it was a great time to get out."
He followed his love of cooking, and won a spot in season five of Gordon Ramsay's reality television show "Hell's Kitchen," which aired in 2009.
On the first episode, he got chewed out by Ramsay for leaving the lobster out of lobster spaghetti. By the time he was eliminated on episode five, he had partnered with some friends to open his first restaurant, Georgica, in Wainscott. They were still installing the banquettes when the first diners arrived.
"We had a reservation at 6 o'clock -- we literally just made it," Levine said. "It was ultra-popular right away and that pretty much propelled me to where I am now."
This season -- Georgica's first without Levine -- turned out to be the venue's last, closing for good yesterday. Levine doesn't have too much time to reflect.
Last month he and Lindsay Hubbard, a public-relations specialist he has worked with, founded a hospitality-focused agency called Indulgence Public Relations. He is chief financial officer.
Fussy Diners
In late October, Levine will be opening a Hotel Chantelle in London. And he's helping developing a resort in Rincon, Puerto Rico.
His ambition is to keep on cooking while owning and developing properties. He cites Andre Balazs, Ian Schrager and Noah Tepperberg as role models.
"In finance, I learned always look at the bigger picture and where the bigger money is, and I know owning the real estate is part of that," Levine said. "I want to do it from Step A to Step Z."
In this regard, working at Gurney's is valuable. He's learned about ordering furniture and dealing with finicky diner requests at all hours.
"You get the people, their steak has to be 'mid-well-slash-with-a-pink-no-that-is-not-right.' And it's perfect! Eat it! It's really New York City knowledge that you need to make these people happy."
Before it's here, it's on the Bloomberg Terminal.
LEARN MORE