Fighters Unwind in Russia Where Beer Doesn't Spell Death
Jake Rudnitsky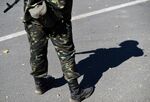 For separatist fighters, the trip from Ukraine's war-torn east to unwind over the Russian border is a chance to enjoy life's simple pleasures.
"We're here to take a breather," said Arslan, a native of Russia's North Caucasus region who declined to give his last name. "The penalty for drinking a beer on the front is death."
Arslan, who said he provides the rebels with military intelligence, was kicking back at a river-front sanatorium that boasts an infinity pool and has hosted television crews from state-owned Russian media. Among the items he picked up during his several-day break were a smartphone and a laptop computer.
Arslan was in Russia's Donetsk, 135 miles (220 kilometers) from the Ukrainian city of the same name where government troops have faced off against thousands of insurgents. Letting rebel fighters cross the border for leave is needed to keep up morale among volunteer forces and prevent desertions, according to Vladimir Pribylovsky, head of the Panorama research group.
"Anyone who wants to fight with the rebels is allowed to cross the border," he said by phone from Moscow. "The Kremlin is willing to give them a playground" to blow off steam.
Russia denies involvement in the unrest, which began after it annexed Crimea in March. Russian President Vladimir Putin presented a seven-point plan in Ulaanbaatar, Mongolia, today that calls for an end to the rebels' offensive in eastern Ukraine and international monitoring of any truce.
Warm Welcome
The town of 49,000 people in the Rostov region where Arslan relaxed has seen a flurry of activity of late as wounded militants recuperate at local hospitals, refugees seek haven, and hundreds of trucks of humanitarian aid arrive from Moscow.
The convoy brought with it the global media spotlight as the fate of the supplies fueled tensions with Ukraine amid a conflict that's already killed more than 2,500 people. Putin is vowing to send a second aid shipment to Ukraine, which says he's deployed troops to bolster the rebels.
In the meantime, Russia's Donetsk is a sanctuary for the insurgents and anyone else seeking to escape the carnage.
Unarmed rebels arrive in groups, still wearing camouflage and often traveling in cars with no license plates. In a sign that they're being welcomed by the local authorities, their vehicles sail through traffic-police checkpoints.
Wounded Hospitalized
The local hospital is treating injured fighters, according to Georgi Beketov, a Donetsk eye doctor. While he says crime has risen since the influx of separatists and refugees, most residents support the rebels, stressing an ethnic bond to the nearby Ukrainian regions where Russian is the primary language.
"It's just an accident of fate that we live in Russia and not Ukraine," Beketov said. "There's not even a fence demarcating the border, so even if the authorities wanted to tighten controls over it, they'd have a tough time."
Aside from medical treatment and general rest and relaxation, military supplies are a common reason to venture over the border.
Alexei, a rebel with a goatee and a Russian driving license, used down-time to restock on equipment, though he complained the selection was inferior to his favorite army surplus shop in St. Petersburg.
"Our commanders gave us leave, or else we wouldn't be here," Alexei said, declining to give his last name out of fear for his safety. "We'll head back to the front when they tell us. We've come here to see this thing through to the end."
Pool, Beach
In addition to rebels on leave, the town is also a waypoint for refugees escaping the fighting. Thousands have flooded over the border, many fleeing with only what they can carry, according to regional government spokesman Sergei Tyurin. More than 55,000 Ukrainians are awaiting relocation to communities across Russia, he said.
Those with money or relatives in the area face easier choices than people who checked into a tent refugee camp set up in a field outside of the town. Alexander Yeshchuk, a miner, arrived there with his wife and eight-month-old child after the fighting damaged his workplace in the Ukrainian town of Molodogvardiysk. He plans to build a new life in Russia.
"To think that just this morning we were sitting on our couch at home," Yeshchuk said, surveying the dusty camp with no running water where he'll be living for two or three days before being placed. "The first days are always the hardest."
More than 1,350 Ukrainians were in three camps in the Rostov region in late August, down from the month's peak of more than 4,000, according to Tyurin. Eight hundred refugees left the camps Aug. 29 to be settled elsewhere in Russia, he said.
Arslan's foray into Russia is proving far less grueling.
"This town's not so bad," he said. "After the front, even having running water seems like a luxury, and here we are with a pool and a beach."
Before it's here, it's on the Bloomberg Terminal.
LEARN MORE