Daily Fantasy Sports Draw Big Bets From Investors
by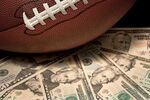 It's possible to make a lot of money playing on fantasy sports websites, and apparently it's also possible to raise a whole lot of money if you run one.
FanDuel, the biggest daily fantasy site, said on Tuesday that it raised $70 million in an investment round just one week after DraftKings, its major competitor, announced $41 million in new funding. The two companies taken together have now raised more than $160 million—big money for an activity that's unknown even to many fantasy sports enthusiasts.
It's no coincidence that the two rivals are scrambling to collect cash in the final countdown to the 2014 NFL season. September marks the beginning of the high season for the fantasy industry; FanDuel says 40 percent of its revenue comes from the NFL. Both companies want to be the first website that people play when they initially discover daily fantasy sports. Expect to see an increasing number of ads—and perhaps more squabbling between two startups that really seem to get on each other's nerves.
At the moment, daily fantasy sports is a small niche within a pretty big one. About 20 percent of American males play fantasy sports, according to the Fantasy Sports Trade Association, and almost half of those pay entry fees to do so. Daily fantasy allows people to play in contests that take hours, not months. Putting real money on the line is the norm, and daily fantasy demographics skew far younger than the traditional rotisserie baseball crowd. For now, however, the daily games are mostly for the die-hards: FanDuel expects almost 600,000 people to use its site this year.
With paid entry fees, FanDuel says it's already profitable (DraftKings doesn't disclose numbers). So why does it need an extra $70 million to play with? The company says it's adding seasonal customer service workers, building out its technology, and increasing spending on marketing. FanDuel also wants to leverage its relationship with one of its newest investors: NBC Sports. The two companies have already been working together, with NBC promoting FanDuel through its Rotoworld fantasy website. Nigel Eccles, FanDuel's chief executive officer, wants his company to graduate into a role among NBC's television sports coverage through on-air discussion of daily fantasy games.
NBC's involvement is another indication that the mainstream sports world is becoming comfortable with the legal status of daily fantasy. The games, which involve risking sometimes significant amounts of money in contests that take place over a couple of hours, have consistently drawn comparisons to sports gambling. But a 2006 law on gambling explicitly defines fantasy sports as legal, and daily fantasy games have all been designed to fit into that definition. Rick Cordella, head of digital for NBC Sports Group, says the company isn't at all worried.
Before it's here, it's on the Bloomberg Terminal.
LEARN MORE