pursuits
Dunkin' Adds Almond Milk for the Health-Conscious Doughnut Customer
By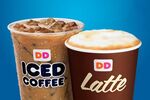 Dunkin' Donuts has offered soy milk for some time. Now that almond milk has dethroned soy as America's most popular non-dairy milk, more customers have been demanding the nutty alternative. So starting this week, Dunkin' Donuts will be rolling out vanilla-flavored Almond Breeze almond milk to about three-fourths of its 7,821 restaurants.
Starbucks, the country's largest coffee chain, does not offer almond milk, saying it is a potential allergen. That doesn't seem to worry Dunkin'. "There are more opportunities than ever for restaurant companies to differentiate themselves by staying on top of consumer trends and responding to them," says John Costello, Dunkin' Brands' president of global marketing and innovation. Dunkin' stores  post declarations of possible allergens.
Depending on the restaurant, the almond milk option may cost more, although Dunkin' Donuts declined to say how much.
Before it's here, it's on the Bloomberg Terminal.
LEARN MORE