Draghi Has Road to Run That Germany Can't See in Opposing QE
Simon Kennedy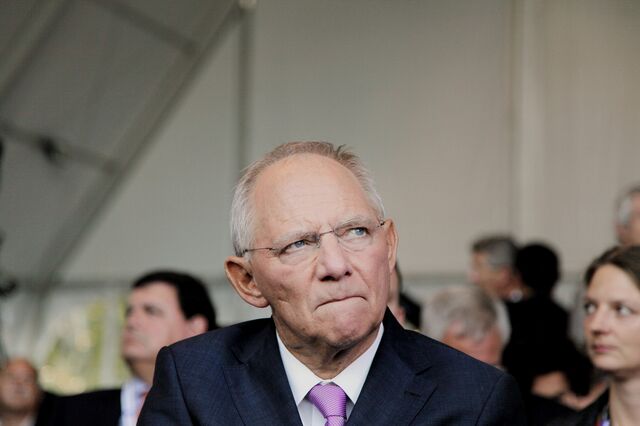 To German Finance Minister Wolfgang Schaeuble, the European Central Bank is at the end of the road.
Economists including Malcolm Barr and Greg Fuzesi at JPMorgan Chase & Co. say ECB President Mario Draghi's destination may still be a quantitative-easing effort to jump start the sputtering euro-area economy.
"We think that Draghi is front-running the Governing Council to push them for more stimulus," Fuzesi wrote last week. "The Bundesbank is unlikely to give up its fundamental concern about moral hazard."
While JPMorgan economists assign just a 30 percent chance of sovereign bond buying this year and 50 percent next year, they see potential benefits that German policy makers reject. According to an Aug. 29 report:
-- Bond buying would help underpin inflation expectations in the region.
-- While German bond yields may not have much further to fall, debt buying could also reduce borrowing costs in peripheral economies like Spain and lift other assets, such as stocks and corporate bonds.
-- If QE opens markets as a source of financing for large companies, then that would free up bank lending and the corporate-bond market for smaller firms.
-- QE should increase the value of banks' holdings of sovereign debt and their ability to raise equity capital, helping further repair of balance sheets.
Exports Boosted
-- The extra liquidity should weaken the euro, aiding exporters.
-- It would send a signal to politicians. "The ECB's tolerance for a protracted inflation undershoot does not provide a platform for politicians to make a strong case for adhering to European policy unorthodoxy."
Schaeuble finds none of that persuasive.
"Monetary policy has come to the end of its instruments," Angela Merkel's 71-year-old finance chief told Bloomberg Television in an interview last week.
There are certainly reasons for caution -- otherwise the ECB would probably have pressed the QE button long ago, like the U.S. Federal Reserve and Bank of England. Europe lacks a unified bond market, which adds logistical hurdles to the political squabbling.
Record Lows
What's more, government bond yields are already around record lows, suggesting little bang is available for the buck. The region's reliance on banks for credit over financial markets further limits the punch and the asset purchases risk relieving pressure on governments to revamp their economies.
Likewise, Bundesbank President Jens Weidmann, previously Merkel's top economic adviser, has frequently warned of the dangers of asset purchases.
All of which leaves Draghi, concerned about sliding inflation expectations and the threat of deflation, poised to resume his fight with Europe's economic and political heavyweight.
"We stand ready to adjust our policy stance further," says Draghi, who convenes policy makers this week.
Before it's here, it's on the Bloomberg Terminal.
LEARN MORE