Clegg Would Scrap U.K. Marriage Tax Break to Fund Child Care
Thomas Penny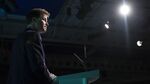 Britain's Liberal Democrats would scrap plans to cut taxes for married couples and use the money to extend free child care if they win office next year.
The proposal, which would give 15 hours of government-funded childcare to all two-year-olds, will be included in a draft manifesto to be considered at the Liberal Democrat conference starting Oct. 4, Deputy Prime Minister Nick Clegg's office said in an e-mail.
Tax breaks for married couples, due to start next year, are a totemic policy for Prime Minister David Cameron's Conservatives, who govern in a coalition with Clegg's party.
"This is ultimately a fundamental difference in values," Business Minister Jo Swinson said in a statement. "Liberal Democrats want to help all families with childcare support and nursery education right the way through from the end of parental leave to the start of school. The Tories are more bothered about helping only some couples through a married couples' tax break."
With the election just eight months way, Clegg is underscoring the differences between his party and the Conservatives, as well as the opposition Labour Party. The Liberal Democrat "pre-manifesto" includes more than 300 policies over 80 pages.
A speech Clegg planned to make today to highlight the document was postponed late last night, following the release of a video showing the beheading of a second American journalist by Islamic State.
Currently, 15 hours of state-funded childcare are available to all three and four-year-olds, and two-year-olds from poorer families. If money allows, the Liberal Democrats want to extend free provision to 20 hours a week for all children between the ages of two and four, and from nine months where both parents work, the party said.
Before it's here, it's on the Bloomberg Terminal.
LEARN MORE