Incoming MBAs Barbecue While Alumni Watch Tennis: The Week at Business Schools
By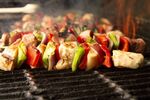 Business schools are beginning to welcome students to campus and are already providing networking opportunities and career advice. This week, one school will offer guidance on what to do when an internship hasn't led to a job offer. Others opportunities include student schmoozing over a barbecue and an alumni panel discussion.
Monday, September 1

Stanford Graduate School of Business Information Session (Tel Aviv).
Chicago Booth Alumni Club of Hong Kong talk: "Economic Challenges Facing Asia and the World: Looking Ahead," the Chicago Economics Society in Asia's inaugural event.
Northwestern Kellogg School of Management Complete Immersion in Management's lakefront barbecue.
Annual UCLA Anderson U.S. Open event: $78 tickets for alumni to the evening session of the Men's/Women's quarterfinal in Flushing, N.Y.
Thursday, September 4
Duke Fuqua School of Business multi-school information session, Joint MBA Fair, Durham, N.C.
Michigan Ross School of Business Career Services meeting: "Not Returning to Your Internship Employer."
Friday, September 5
Duke Fuqua open house, "with current students, an alumni panel, and sessions on career management, academic preparation, and alumni relations," in Durham, N.C,
Before it's here, it's on the Bloomberg Terminal.
LEARN MORE