Atlanta Falcons' New Stadium Makes a Spectacle of Its Retractable Roof
by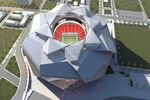 The Atlanta Falcons' new football stadium makes an architectural statement with a large retractable roof that opens and closes like a camera shutter.
The $1.2 billion, 65,000-seat venue is part of a wave of costly arenas being built to draw audiences away from their TVs and iPads. To do that, 360 Architecture, of Kansas City, Mo., proposed a scheme inspired by Rome's Pantheon, which lets in a stream of light through a circular opening in the ceiling. In a video about the project, 360 Architecture principal Bill Johnson says the designers thought: What if we could create the experience of that spotlight on the field, almost just right on the Falcons logo at the 50-yard line, and then just let it grow and get bigger and bigger?
Despite the 2nd-century design reference, the 1.8-million-square-foot stadium looks like a not-so-aerodynamic spaceship. The exterior continues the jagged pinwheel effect of the roof, which is ringed with video displays to show the score and action on the field from multiple camera perspectives.  The live feed, Johnson says, is something viewers won't be able to get at home.

Enclosed stadiums tend to be energy hogs because they require air conditioning to keep the interior temperate. In Dubai, for instance, an entire minicity with a retractable roof is planned. Johnson says the Atlanta stadium should be primarily used as an open-air structure, with lobby-level glass walls that can also unfold onto the street.
The Falcons' lease on its current home, the Georgia Dome, is set to expire in 2020 or when the bonds financing the facility are paid, which the club says could be as soon as 2017. That's when the new stadium is scheduled for completion. According to a study commissioned by the Georgia World Congress Center, renovating the Dome to bring it in line with NFL standards would cost $859 million—"not a compelling difference," the group argues on its stadium website, "vs. the cost of building a new facility."
The Arthur Blank-owned Falcons aren't the only Atlanta team to build a bigger, better venue. The Braves are decamping to the suburbs for a baseball stadium in Cobb County designed by the architecture firm Populous. The Braves' headquarters will be surrounded by a 74-acre, $400 million mixed-use development and "entertainment district."

Critics of the Falcons' project, meanwhile, have blasted the use of state money to help Blank build his shiny stadium. The team says that public funds will come from an existing tax on hotels and motels collected mostly from tourists, rather than local residents. It's too early to say how the cost of the stadium will affect ticket prices, which will depend on how many choose to worship at Atlanta's Pantheon.
Before it's here, it's on the Bloomberg Terminal.
LEARN MORE