African Leaders Meet to Discuss Ways of Combatting Insurgencies
Paul Richardson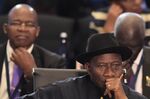 African leaders meet in Kenya today to discuss ways of boosting domestic efforts and international support to combat insurgencies that have killed thousands of people across the continent this year.
At least six heads of state, including the presidents of Nigeria, Somalia and Chad, the prime minister of Algeria and ministerial delegations from Libya, South Africa and Ethiopia, are attending the summit in the capital, Nairobi. The meeting is expected to see leaders agree on "concrete steps" to enhance existing measures to "effectively address the threat of terrorism," the African Union said in a statement yesterday.
Boko Haram Islamist militants in Nigeria, Africa's biggest oil producer, killed more than 2,000 people so far this year in their campaign to impose Islamic rule, according to Human Rights Watch. On the other side of the continent, at least 179 people have died in "terrorist incidents" in Kenya, Bath-based risk consultancy Maplecroft said, while in Libya, Islamists are battling for control of the capital, Tripoli.
"The timing of the summit is important, given the focus is shifting away somewhat from Africa as a result of what's happening in Syria and Iraq," Paul Gabriel, East Africa analyst at Control Risks in London, said by phone yesterday. Militants from the Islamic State, a breakaway al-Qaeda group, declared a caliphate in the two Middle East countries in June. The U.S. last month authorized air strikes against the militants in Iraq and ordered surveillance flights over Syria.
International Support
Leaders including Nigerian President Goodluck Jonathan and his Kenyan counterpart, Uhuru Kenyatta, have called for increased international support to deal with the threat posed by militants. A spate of bombings in Nigeria and Kenya is sparking concern that investors may begin to shy away from the continent unless the violence eases, the African Development Bank and the World Bank said in May.
"There is still an awareness among the donor community that many African countries need assistance, given the likely difficulties they will face in dealing with a growing terrorism threat, not least because of their lack of resources," Gabriel said. "On the domestic side, there is still a lot to be done in terms of corruption, training, funding and counter-terrorism strategies that need to be improved and implemented."
U.S. President Barack Obama's administration committed itself to supporting African efforts to battle militants at last month's U.S.-Africa summit in Washington.
U.S. forces yesterday attacked al-Qaeda-linked al-Shabaab militants in Somalia, the Pentagon said today, without providing further details. The operation came a day after the Islamist fighters carried out a raid on a prison in the capital, Mogadishu, in which at least 10 people, including seven attackers, were killed. The jail was used as a temporary holding cell for people suspected of having links to al-Qaeda.
Before it's here, it's on the Bloomberg Terminal.
LEARN MORE