SNB's Jordan Says Cap Is Key Amid Increased Global Risks
Catherine Bosley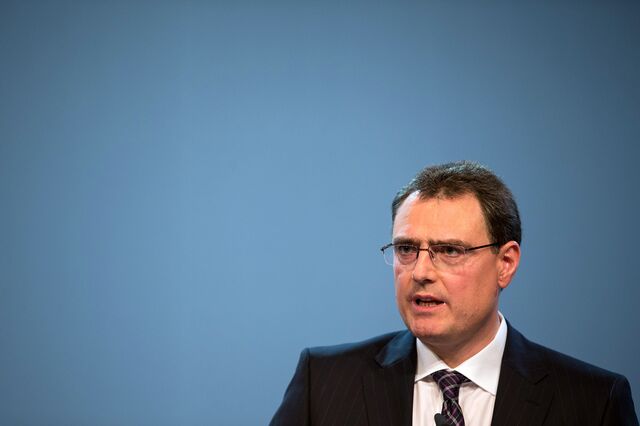 Swiss National Bank President Thomas Jordan said the ceiling on the Swiss franc remains vital as global economic risks have increased.
"At the moment, given a worsening of the environment, the key remains the minimum exchange rate," he said late yesterday. "Should geopolitical conflicts worsen, the impact on the economy would likely be stronger than anticipated."
The Zurich-based central bank set a ceiling of 1.20 per euro on the franc three years ago to ward off deflation and a recession. Coupled with the conflicts in Ukraine and the Middle East, rhetoric by Mario Draghi suggesting the European Central Bank may be about to embark on quantitative easing lifted the franc to a near 21-month high last week.
"The franc remains highly valued against the euro," Jordan said, speaking at a business event in Lugano, Switzerland.
It was trading at 1.2077 per euro at 9:03 a.m. in Zurich, little changed from yesterday. Against the dollar it stood at 92 centimes.
Swiss economic growth unexpectedly stagnated in the second quarter, the State Secretariat for Economic Affairs in Bern said today. Manufacturing activity declined more than expected in August, suggesting growth could struggle to find its footing in coming months.
"We don't expect a change in monetary policy," said Maxime Botteron, an economist at Credit Suisse Group AG in Zurich. "The SNB should keep the cap and buy currencies if the cap comes under pressure, but we don't expect further measures."
Inflation Forecast
The SNB, whose mandate calls for rates of inflation below 2 percent, foresees consumer prices rising 0.1 percent this year, with gross domestic product increasing 2 percent. It expects price growth to rise to 0.3 next year and to 0.9 percent in 2016. The central bank will update those forecasts at its next policy review on Sept. 18.
Swiss GDP was unchanged in the three months through June from the previous quarter, when it expanded 0.5 percent. That's the weakest quarterly reading in two years and compares with a median estimate for 0.5 percent growth in a Bloomberg News survey of 16 economists.
With today's data "it'll be hard to achieve the 2 percent growth forecast for the year," Credit Suisse's Botteron said.
According to Bloomberg News's monthly survey of economists, published before ECB President Draghi made his comments in Jackson Hole, Wyoming, on Aug. 22, the SNB will maintain its cap for at least another two years.
(Corrects inflation forecast in eighth paragraph of story published on Sept. 2.)
Before it's here, it's on the Bloomberg Terminal.
LEARN MORE