Merkel's Generosity Tested by Surge in German Refugees
Naomi Kresge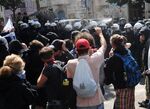 A crossroads where two highways, three rail lines and a pair of rivers meet, Rosenheim, Germany, is a place most people only pass through. Khan, a 17-year-old Afghan refugee, is trying his hardest to stay.
He was 14 years old when his father paid smugglers to help him slip away from his family's village east of Kabul. He walked, swam, hid in trucks, picked oranges in Greece and eventually found himself dumped on the side of the autobahn.
"I've actually achieved everything that I wanted to do as a kid," said Khan, who asked to be identified using only one of his names to protect his mother and siblings in Afghanistan.
The Pashtun boy is part of a wave of asylum seekers testing the willingness of Europe's biggest economy to take on more refugees after the country became the world's top destination for asylum claimants in 2013, surpassing the U.S. A further surge is under way this year as refugees from Iraq and Syria flee Islamic State militants. The influx has strained budgets, crowded shelters and spurred debate about stricter rules.
Chancellor Angela Merkel told lawmakers yesterday that Germany must accept more refugees from conflict zones. Meanwhile, her parliamentary bloc is pushing to classify Serbia, Macedonia and Bosnia-Herzegovina as secure countries, which would make it easier to reject applicants from those places. The Balkan nations, which fought a civil war in the 1990s, accounted for a quarter of the 127,000 applicants in Germany last year, according to the Interior Ministry.
Social Welfare
"What I advocate is political debate about how many refugees we should let in -- as a rich country, a country in the middle of Europe -- taking into account the suffering of refugees," Interior Minister Thomas de Maiziere, a member of Merkel's Christian Democratic Union, said in Berlin last week. "We can offer a haven to all those who truly need protection. But that also means that those who aren't politically persecuted shouldn't get asylum-seeker status."
Merkel's government argues that a growing number of Balkan asylum seekers are coming to Germany to collect social welfare. Bowing to a court ruling that required more monetary support for refugees, the cabinet passed a draft law last week to raise monthly stipends for asylum seekers to 352 euros ($462), about the same as welfare for the long-term unemployed.
De Maiziere, who expects 200,000 refugees to flood into Germany this year, says changing the law to stop Balkan citizens from applying for asylum would free up crowded space and stretched resources to help "those who are really in need." The state of Bavaria, the country's second-biggest regional economy, spent 220.1 million euros feeding, housing and otherwise caring for asylum seekers last year, more than twice what it paid in 2011.
Measles Outbreak
That money helps provide shelter to refugees in a Munich neighborhood close to the Allianz Arena, home of the city's famed Bayern Munich soccer club. Some 1,600 asylum seekers live there in a former army barracks meant for 1,200. The facility was even more crowded until a recent measles outbreak led authorities to cap admissions and house refugees elsewhere, including in hotels.
On a weekday afternoon in August, children and veiled women were visible behind guards at the gates. Dozens of men walked the sidewalk outside, along a strip of grass that borders the complex's low walls. A peddler sold hand-rolled cigarettes, and a few young men carried beer bottles.
Inside, there's little to do but line up for meals, said Basit Abdul, 23, from Islamabad, Pakistan. Abdul and a group of other Pakistani men were sitting cross-legged in a circle on the grass, sharing soda in plastic cups. They described altercations in the camp's chow lines and said police sometimes are called. The facility turned down a request from Bloomberg News to visit.
Strong Economy
The camp isn't popular with all its neighbors. Members of one now-closed Facebook group worried about whether the facility's residents would spread Ebola. Despite such hostility, not one of the men wanted to leave.
One lure is the economy, which has weathered Europe's debt crisis better than others because of its focus on global exports and low deficits. And with the oldest population in Europe, Germany has opened its door wider to certain immigrants -- mostly the engineers and scientists it needs for the small and medium-sized companies which account for more than half of economic output.
Sinking Boat
Khan's journey is in many ways typical of other immigrants who, finding the front door to Europe closed, make their way through the back. His smugglers first took him into Pakistan, then through Iran into Turkey. His passage into Europe came where Greece and Turkey meet at the fast-flowing Evros River. There his smugglers packed him and 14 other people into a small boat, pointed toward the other side and told them to cross. The refugees struggled to steer; the boat began to fill with water. Another boy jumped in to push. After some hesitation, Khan joined him.
When they reached the shore, Greek police found them. But in the chaos of the riverside, with a second refugee boat about to land and some of Khan's fellow travelers urging him and three others to run, he escaped. He wasn't fingerprinted, something he only later realized would smooth his chances elsewhere because the European Union set rules in 2003 requiring the European country where refugees are first identified and fingerprinted to process their applications.
Khan stayed about 10 months in Greece, saving money he earned picking oranges and planning his next move. He used the Internet to research where to go next and started dreaming of Switzerland, Sweden or Germany. Then he paid a smuggler 300 euros to bring him through Macedonia to the border of Serbia.
Locked Inside
From there, he and three other boys paid to be put inside a black freight truck with an unknown destination. Smugglers disconnected the cables that held the doors closed in the middle of the night, while the driver was asleep, then sealed the teenagers inside. For three days, he watched his mobile phone switch to different countries' networks.
"Then I came to Germany, and it said 'D'," Khan said. "I didn't know what that was. I wrote my friends and said, 'What is D?' They didn't know either."
Finally, a friend back in Serbia texted Khan that "D" stood for Deutschland, or Germany, and he started banging on the inside of the truck to be let out. The confused driver dumped them on the side of the road. The boys walked to a gas station, bought cigarettes and asked what country they were in.
"They said, 'It's Munich,' but I didn't know what that was," said Khan, who now he lives in a youth home run by Catholic charity Caritas, takes German classes and waits for the results of his asylum application.
Restricting Access
With cities across the country struggling to cope with the influx, the federal government is providing 200 million euros to overrun communities to help cover costs, promising to crack down on those abusing the social system and restricting access to asylum for others.
The proposal to take Bosnia-Herzegovina, Macedonia and Serbia off the list of countries from which German accepts asylum seekers has passed the lower house of parliament and is currently being blocked in the upper house by the opposition Greens. The government plans to try again later this month to get the measure through. Even some Social Democrats, who govern with Merkel's CDU, are expressing reservations.
"There should be no upper limit on accepting refugees," Daniela Kolbe, an SPD lawmaker on parliament's internal affairs committee, said in an interview. "It's a fundamental right anchored in the constitution that at times has not been interpreted to the letter. We must be very wary of moves to limit its scope."
Applicants Rejected
For Khan, the answer he gets to his application may not be what he wants. Germany granted just 27 percent of the 70,217 asylum requests decided through July of this year, according to the Federal Office for Migration and Refugees. His fate may end up being a lot like that of his fellow countryman Naqib Hakimi.
"I had a lot of hope that I'd be able to change my life," said Hakimi, who was born near Kabul and is appealing the decision three years ago to reject his application after he turned 18. "Slowly, slowly this hope diminished."
Hakimi is part of a group of refugees who set up a tent on a square in Nuremberg in May to protest lengthy application waiting times and regulations that force asylum seekers to live in group homes, prohibit work and block travel within Germany. In Berlin, an attempt to clear refugees who had squatted since 2012 in a school led to a six-day standoff with police in June and July. Thousands of residents joined the protests.
Deportation Threat
Khan could eventually find himself facing deportation, said Alexander Thal, an advocate with the Bavarian Refugee Council, a human rights organization. Germany agreed to shelter about half of Afghan asylum seekers last year; those rejected were often young men like Khan traveling alone, Thal said. German authorities argue such men still have options inside Afghanistan, he said.
"He won't be deported as long as he's a minor, but when he turns 18 it'll be dangerous," Thal said. "He falls exactly into this pattern: they'll say he could have gone to Kabul."
Khan turns 18 on March 21. He passed his high school exams, in German, this spring. He starts studying at a two-year technical school in September. Once a bowler on his village cricket team, he's now a striker for one of the Rosenheim soccer teams. He talks about being free to make his own choices and says he wants German citizenship.
And after a year and a half in the country, he is still waiting for his asylum interview.
Before it's here, it's on the Bloomberg Terminal.
LEARN MORE