Los Angeles Mayor Proposes $13.25 an Hour Minimum Wage
James Nash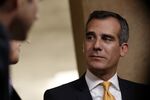 Los Angeles, the second-largest U.S. city by population, would boost its minimum wage to $13.25 an hour by 2017, almost twice the current federal regulation, under a proposal by Mayor Eric Garcetti.
Garcetti, a 43-year-old Democrat, said he will ask the City Council to lift the prevailing $9 minimum to $10.25 next year, then phase-in $1.50 annual raises over the following two years, according to his office.
"Today, we launch the biggest anti-poverty program in L.A. history," Garcetti said yesterday in a Facebook post. "We are going to raise the minimum wage."
The mayor's push is part of a nationwide drive in cities and states to lift wages for low-income earners, after efforts to raise the federal standard of $7.25 an hour stalled in Congress.
The Los Angeles minimum would top out at $13.25 in 2017, when California's minimum wage is to reach $13 under a law signed last year by Governor Jerry Brown. The city's minimum would also exceed San Diego's, where the City Council overrode a mayoral veto to boost the base rate to $11.50 in three years.
Seattle will raise its minimum to $15, the highest among any large U.S. city, over the next three to seven years, depending on the size of the employer. In San Francisco, voters in November will consider setting a $15 minimum by 2018.
Garcetti's proposal would cost employers an extra $10,000 per employee per year once benefits are factored in, said Gary Toebben, president of the Los Angeles Area Chamber of Commerce.
"Those employers will have choices to make regarding price increases or cuts in expenditures and many will either reduce the number of employees or reduce the hours that employees are working," Toebben said by e-mail before Garcetti announced his plan. "We are also concerned that in a county with 88 cities, the businesses in Los Angeles will face a competitive disadvantage when it comes to price."
The chamber hasn't taken a formal position on the measure, Toebben said.
Before it's here, it's on the Bloomberg Terminal.
LEARN MORE