Draghi's Stimulus Signals Spur Europe Stock-Rally Bets
Namitha Jagadeesh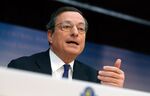 Speculation that central bankers will boost stimulus to combat slowing inflation is overwhelming concern about Ukraine and sending the cost of protecting European stocks against losses to the lowest since 2013.
The Euro Stoxx 50 Index had its biggest monthly gain since February in August as the cost of hedging against swings declined, according to data compiled by Bloomberg. The gauge tracking the biggest companies in the euro area climbed 1.8 percent last month as European Central Bank President Mario Draghi signaled policy makers are ready to take more steps to stoke growth.
Consumer prices in the region rose the least since October 2009 last month, adding pressure on the central bank to act. Draghi has said that any worsening of the medium-term inflation outlook would provide a reason to carry out a program of bond purchases similar to one in the U.S.
"Optimism over possible quantitative easing by the ECB has contributed a great deal to the rally in European stocks," Karim Bertoni, an equity analyst at de Pury Pictet Turrettini, which manages $3.3 billion, said in a phone interview from Geneva. "Draghi's comments enable markets to dream of it more than before."
Monetary Easing
For now, optimism over easing is outweighing concern that crises in Ukraine, Iraq and Gaza will worsen. The Euro Stoxx 50 has rallied 5.5 percent since its almost five-month low on Aug. 8. The gauge surged the most since March on Aug. 25, after Draghi spoke at the Jackson Hole, Wyoming, economic symposium.
Germany's DAX Index has climbed 5.1 percent since Aug. 8, and the CAC 40 Index has gained 5.6 percent. That sent the French gauge for the second-biggest monthly rally among 24 developed markets behind the U.S.
Inflation in the euro area rose 0.3 percent in August from a year earlier, and unemployment stayed at 11.5 percent in July, near a record, according to reports last week.
A growing number of economists, including those from BNP Paribas SA, JPMorgan Chase & Co. and Nomura Holdings Inc., expect the ECB will cut interest rates when it next meets on Sept. 4. The median estimate in a Bloomberg News poll still predicts no change.
59% Rally
The Euro Stoxx 50 has rallied 59 percent from its low in September 2011. Since taking over in November of that year, Draghi has vowed to hold borrowing costs low for an extended period and pledged in July 2012 to do "whatever it takes" to save the euro. In June, the central bank cut the deposit rate to minus 0.1 percent and lowered the main refinancing rate to an all-time low of 0.15 percent.
Investors are too optimistic about the timing of further ECB monetary easing, according to Andrea Williams, who helps manage about 50 billion pounds ($83 billion) as head of European equities at Royal London Asset Management.
"Markets may have gone too far in anticipating an immediate reaction from the ECB," Williams said by phone from London. "Markets came off a bit earlier, and we've recovered most of those losses on the back of expectations that Draghi will come back after the summer and straight away start buying bonds. I worry that he's not ready to do that yet."
Ukraine Crisis
Any further escalation in the conflict between Russia and Ukraine affecting gas supplies may also hurt stocks, she added. Russia warned Europe in a meeting of energy chiefs that it risks having natural-gas supplies siphoned off by Ukraine this winter if the former Soviet country can't resolve a payment dispute with its neighbor. The European Union depends on supplies via Ukraine for about 15 percent of its demand.
The gauge tumbled 9.3 percent from an almost six-year high on June 19 through Aug. 8 as the U.S. and the EU imposed sanctions on Russia, and the nation responded with bans on agricultural imports from those regions.
Whipsawed by speculation of the ECB starting asset purchases and fear of escalation of the conflict between Ukraine and Russia, European stocks are now moving more in tandem. Last week, all but three Euro Stoxx 50 companies climbed.
"European stocks have recently been moving with a higher degree of correlation because of expectations that the ECB will start quantitative easing -- for the bull case -- or that Russia-Ukraine will continue to deteriorate, on the bear side," Antonin Jullier, global head of equity-trading strategies at Citigroup Inc. in London, said in an interview.
Implied Volatility
Traders are paying less than they used to for protection. Euro Stoxx 50 implied volatility, which tracks expectations for price swings and is a gauge of options prices, is 5.3 percent lower than a measure of actual past moves for the index, according to two-month data compiled by Bloomberg.
At the same time, the VStoxx Index, which tracks the cost of contracts on the stocks index, dropped 10 percent last month, the most since February. It rose 3.3 percent to 17.76 at 8:29 a.m. in London today.
"Everyone's looking at what the ECB will do, hoping for the best, and investing now," Herbert Perus, who helps oversee $36 billion as head of equities at Raiffeisen Capital Management in Vienna, said by phone. "Optimism over further monetary easing is certainly outweighing fear over Ukraine at the moment. We're right now in a buy-the-dips mentality."
Before it's here, it's on the Bloomberg Terminal.
LEARN MORE