Polish Political Stability at Risk as Tusk Moves to EU Role
Maciej Onoszko, Dorota Bartyzel and Piotr Skolimowski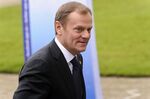 Polish Prime Minister Donald Tusk's departure to become European Union president risks ending an unprecedented era of political stability that helped give the country record-low borrowing costs.
The country's longest-serving head of government since communism ended in 1989 is leaving for Brussels without an heir apparent to stand in next year's general election against a main opposition party enjoying its highest approval ratings in seven years. Tusk's leadership since 2007 helped Poland become the only country in the 28-nation EU to avoid recession.
"Political stability has been the bedrock of lower bond yields in Poland," Peter Attard Montalto, an emerging-market strategist at Nomura International Plc, said by e-mail on Aug. 29. "That would be under threat not just because the opposition might spend more money, but more because they would seek to reverse some of Tusk's investor-friendly reforms."
Tusk, whose 13 predecessors averaged less than 1.5 years in office, increased the retirement age and shored up public finances by redirecting Poles' pension flows away from privately run funds. Investors holding Polish bonds maturing in more than one year earned a 59 percent return since he became prime minister, compared with a 47 percent return on euro-area government bonds, according to data compiled by Bloomberg and the European Federation of Financial Analyst Societies.
Polish Clout
The zloty fell less than 0.1 percent to 4.2106 against the euro at 10:46 a.m. in Warsaw. The yield on five-year local-currency government notes dropped two basis point to 2.52 percent, within one basis point of a record-low set last week, according to data compiled by Bloomberg.
While Tusk's EU position is set to give more clout to his formerly communist nation, where per capita income stands at 68 percent of the EU average, it may not benefit his Civic Platform party, which has relied on its leader's charisma to win seven straight local and national elections.
"The departure of Tusk from local politics may raise the chances" of the opposition Law & Justice party winning power in the next election, Raffaella Tenconi, a London-based economist at Bank of America/Merrill Lynch, wrote in an Aug. 28 note.
Law & Justice, whose leader Jaroslaw Kaczynski has a role model in Hungarian Prime Minister Viktor Orban and his self-styled "unorthodox" economic policies, is supported by 31 percent of potential voters, compared with 26 percent for the Civic Platform, according to an Aug. 19-25 poll of 980 adults by Warsaw-based researcher CBOS. No margin of error was provided.
'Inside-Out'
Tusk, who will take over the EU presidency on Dec. 1, will "comment on the political situation in Poland" early this week, he said in Brussels on Aug. 30. There's no risk of early elections, his spokeswoman Malgorzata Kidawa-Blonska said yesterday, according to public television's TVP Info website.
Parliamentary Speaker Ewa Kopacz, Civic Platform's first deputy leader, told reporters on Aug. 29 that she would probably take the prime minister's job if offered. She and Defense Minister Tomasz Siemoniak are the early frontrunners to succeed Tusk, news and analysis service Polityka Insight said Aug. 28.
"Kopacz knows politics inside-out, and she's a woman, which gives her an edge in confrontations with Kaczynski," Anna Materska-Sosnowska, a political-science professor at Warsaw University, said by phone yesterday.
While Tusk's appointment "disrupts the entire political spectrum, it may end up being a good thing if it breaks the stranglehold of the Tusk-Kaczynski feud on politics," she said.
Kaczynski's Plans
Investors needn't worry about Tusk departing for Brussels, according to Paul McNamara, a money manager overseeing $6.5 billion in emerging-market debt at GAM U.K. Ltd. in London. An election victory by Law & Justice "would be taken negatively by the market, but historically, the party and its predecessors have been in government repeatedly without derailing the economy," McNamara said by e-mail on Aug. 29.
Poles are fed up with being a source of "cheap labor" for the EU, said Kaczynski, who was the country's prime minister in 2006-2007. The opposition leader will seek to increase salaries if elected, he said in February.
Growth in Poland's $518 billion economy slowed to 3.3 percent in the second quarter from 3.4 percent in the first three months, buffeted by weakness in the euro area and the standoff between Ukraine and Russia. Inflation turned negative in July for the first time since at least the early 1980s.
Zloty Swings
"If the likelihood of Law & Justice winning the election increases because of potential infighting within Civic Platform after Tusk leaves, this could negatively affect the zloty," Piotr Matys, a London-based currency strategist at Rabobank International, said by e-mail on Aug. 29.
The Polish currency's three-month implied volatility, a measure of expected price swings in derivative contracts versus the euro, was little changed at 5.7 percent today, compared with 13-year low 5 percent reached on July 30, data compiled by Bloomberg show. Volatility of east European assets increased last month amid tension in Ukraine.
"Poland's political risk is much higher than the market has, until very recently, realized," Nomura's Montalto said. Investors must take into account the "threat to the last seven years of the benign reformist backdrop that this political risk poses," he said.
Before it's here, it's on the Bloomberg Terminal.
LEARN MORE