KenolKobil Kenya to Focus on Existing Business as Debt Paid
Charles Wachira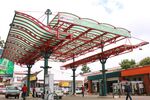 KenolKobil Ltd. wants to focus on existing ventures rather than buying companies as the Kenyan fuel retailer with operations in nine African countries reduces debt, Managing Director David Ohana said.
"We are currently concentrating on building our business in Burundi and Rwanda, where returns on investment have been disproportionately high," he said in an Aug. 27 interview in Nairobi, the capital. "We are growing without making too much noise, quietly increasing our network in countries where returns are clear. We have no plans to acquire companies."
KenolKobil has opened 20 service stations in Burundi over the past year, taking the total there to 34, while in Rwanda, it now has 56 facilities, compared with 38 in 2013, he said. Ohana didn't say what the returns are. Kenya, which has attracted explorers including France's Total SA and Tullow Oil Plc, is headed to become the first oil-exporting country in East Africa when it starts shipments as early as 2016.
KenolKobil returned to profit last year by slashing costs and reducing its workforce by 41 percent. Kenya's biggest fuel retailer by market value is paying down borrowings, with its gearing, or level of debt relative to equity, dropping to 62 percent by the end of June from 67 percent six months earlier, it said on Aug. 20. Ohana said in April the company wants to be debt-free by the end of the year.
Borrowings Drop
"We are heading there," he said. "It's a process to get debt-free. We have done a lot in this regard and more will happen in the second half."
Borrowings declined to 13.6 billion shillings ($154 million) by June 30 from 15.4 billion shillings in December. Profit surged more than threefold to 531.1 million shillings in the first half ended June from a year earlier.
Interest rates offered by banks in the countries where KenolKobil operates are "very high" and are "impacting negatively" on bottom lines, Ohana said today.
The average rate charged by Kenyan commercial lenders in July was 16.91 percent compared with 16.82 percent in January, according to the central bank.
KenolKobil has retreated 17 percent this year, in contrast to a 20 percent increase in the FTSE/NSE Kenya 25 index. The shares were unchanged at 8.40 shillings by the close in Nairobi, giving the company a market value of 12.4 billion shillings.
Market Position
West Texas Intermediate fell 0.4 percent to $95.62 a barrel, taking the decline this year to 2.8 percent. The maximum pump price of gasoline in Nairobi has climbed 7.3 percent to 116.62 shillings a liter (0.3 gallon) in 2014. Kenya's shilling has depreciated 2.5 percent against the dollar in the period.
KenolKobil in 2013 ceded its position as Kenya's second-biggest retailer of petroleum products by sales to Vivo Energy, a Royal Dutch Shell Plc joint venture with Vitol Group, according to the Petroleum Institute of East Africa's website. Total Kenya Ltd. is the largest.
"We want to be a market leader in profitability, not in volumes sold," said Ohana. KenolKobil's operating profit margin was 1.8 percent of net sales in the six months ended June, while Total Kenya's was 1.3 percent in the period.
Before it's here, it's on the Bloomberg Terminal.
LEARN MORE