Israel Shoots Down Unmanned Aircraft as Tensions Flare in Golan
Amy Teibel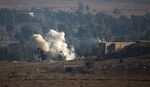 Israel said it shot down an unmanned aircraft over the Golan Heights as the volatility on its frontier with Syria mounted.
The plateau, whose southern section Israel captured from Syria in 1967, grew tense last week after Islamic rebels wrested control of a key crossing and assaulted United Nations peacekeepers monitoring a buffer zone between the countries. The developments threaten the quiet that has prevailed on the Golan since Israel and Syria last warred four decades ago.
Israeli Prime Minister Benjamin Netanyahu, having just wound up a 50-day conflict with Palestinian militants in the Gaza Strip, warned that his country was also ready to parry threats on the Golan.
"We are ready for any scenario" on fronts "including the Golan," Netanyahu said yesterday at a cabinet meeting, hours before the aircraft was downed. Afterward, Defense Minister Moshe Ya'alon warned that Israel -- which annexed the Golan in 1981 in a move that isn't internationally recognized -- would respond "aggressively" if attacked.
Neither Ya'alon nor the military said who may have dispatched the aircraft. An Israeli military official, speaking on condition of anonymity in line with regulations, said the army hasn't changed its deployment in the north since the Islamist gains.
On Wednesday, groups linked to al-Qaeda, including the al-Nusra Front, seized the Syrian side of the Quneitra crossing into the Israel-held section of the Golan, according to the U.K.-based Syrian Observatory for Human Rights. Since then, rebels have seized about 45 UN peacekeepers and attacked dozens of others. Yesterday, al-Nusra said the peacekeepers it captured were safe and had been seized because the UN hasn't protected rebels fighting Syrian President Bashar al-Assad. It didn't issue terms for their release.
'New Reality'
While Israel reinforced the security fence along its northern frontier because of more than three years of fighting in Syria, "it's clear that once the border on the other side is controlled by a radical group, it's a new reality," Amos Gilad, a senior Defense Ministry official, told Israel Radio before the aircraft was shot down. The threat to Israel isn't immediate because Israel prepared for it, though "we obviously have to be on alert," Gilad said.
Over the weekend, U.S. Secretary of State John Kerry, writing in the New York Times, called for a "global coalition" against Islamist extremists who are "perilously close to Israel." In an interview with Channel 2 TV, Netanyahu said he decided "not to invest all my resources" in Gaza at a time when Israel faced challenges from other Islamist groups.
Topple Hamas
Netanyahu has faced criticism at home from detractors who said he should have struck harder at Gaza's Hamas militant rulers. Foreign Minister Avigdor Liberman, in an interview on CNN yesterday, said Israel "must deliberate" its position regarding Hamas. "I think that we have enough force to finish this story and to topple this terrorist organization," he said.
The Gaza conflict has spurred talk about the possibility of renewing Israeli-Palestinian peacemaking in its wake. Yesterday, the Palestinians condemned the Israeli Defense Ministry's decision to declare almost 1,000 acres of West Bank territory near Jerusalem as "state land," a designation that under Israeli law allows for settlement construction.
"This decision, which leads to a further deterioration of the situation, must be blocked," Nabil Abu Rudeina, a spokesman for Palestinian President Mahmoud Abbas, said in a statement. Any construction would have to undergo an approval process that could take years.
The fighting in Gaza erupted several months after the latest round of peacemaking collapsed. Palestinians see the West Bank as the core of a future state that would also include Gaza and east Jerusalem.
Before it's here, it's on the Bloomberg Terminal.
LEARN MORE