Tusk, Mogherini Named to Top EU Posts Amid Russia Discord
James G. Neuger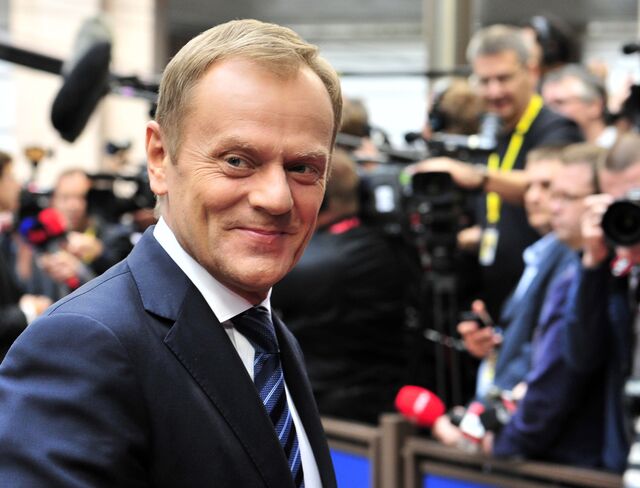 The European Union picked Polish Prime Minister Donald Tusk as president and Italian Foreign Minister Federica Mogherini as chief diplomat in a bitterly fought contest that reflected the bloc's divisions over the handling of Russia.
Tusk, 57, who will run EU summits, has called for a tough response to Russia's attack on Ukraine; Mogherini, 41, faced criticism in eastern Europe for seeking an accommodation with the Kremlin.
The 28-nation EU sent the mixed message late yesterday as the war in eastern Ukraine intensified, indicating that -- as in the euro debt crisis -- clashing national interests will determine European policies while the Brussels-based central leadership plays at best a coordinating role.
"That's what Europe is like: various politicians have various levels of sensitivity and various points of view regarding various conflicts," Tusk told reporters. He vowed to strive for an "intelligent compromise" on the array of crises confronting the EU.
Balancing geography and political party affiliation was a prime consideration in the appointments. Tusk is a conservative from the east, Mogherini a socialist from the south. Together they will form a "dynamic duo," said Finnish Prime Minister Alexander Stubb.
"The goal hasn't been to find a hard-hitting individual: the process is aimed at finding people who have no political enemies," said Fredrik Erixon, director of the European Center for International Political Economy in Brussels.
Debt Crisis
Tusk, Poland's leader since 2007, will take over in December from Belgium's Herman Van Rompuy for a 2 1/2-year term, renewable once. Van Rompuy made his mark as the first full-time president by brokering compromises between Germany and deficit-scarred states during the Greece-driven debt crisis.
Tusk wasn't part of that inner circle because Poland has yet to adopt the euro. That outsider status, plus an unproven command of English, the EU's lingua franca, may handicap Tusk, while reassuring national leaders that he won't outshine them.
Tusk acknowledged that his English isn't yet ready for prime time, promising to be "100 percent ready" by December before switching into Polish for the rest of a press conference. Although Poland doesn't use the euro, Tusk will also chair twice-yearly meetings of leaders from the 18 countries that do.
Anti-EU Mood
The job itself has little formal power: officially known as president of the European Council of 28 national leaders, Tusk will "drive forward" EU policymaking at summit level and "endeavor to facilitate cohesion and consensus," according to the bloc's governing treaty.
Tusk takes over as chief facilitator as the EU grapples with economic doldrums at home and violent unrest on its eastern and southern flanks, compounded by an anti-EU mood that fueled gains by euro-skeptic parties in this year's European Parliament elections.
Britain is considering pulling out of the bloc, France's anti-EU National Front came on top in the European elections, and Hungarian Prime Minister Viktor Orban has publicly proclaimed the goal of an "illiberal" state that runs athwart the bloc's pluralist values.
With 579,000 Poles forming the second-largest migrant community in England and Wales, U.K. Prime Minister David Cameron's crackdown on immigration brought him into direct conflict with Tusk earlier this year. Tusk denounced as "discrimination" any U.K. moves to deny welfare benefits to Poles paying taxes in Britain.
EU's Future
Keeping Britain in will be a priority, Tusk said. He said the bloc's future "is not about making it smaller" and "no reasonable person could imagine the EU without the U.K."
National leaders' refusal to outsource big decisions will also complicate life for Mogherini, who was labeled "pro-Kremlin" by Lithuanian President Dalia Grybauskaite at a first, failed appointments summit last month.
Mogherini attracted the east's ire by preaching dialogue with Russia, going to Moscow in July to restore a "strategic partnership." Leaders of eastern frontline states consented to her selection once Tusk emerged as the second part of the package.
Mogherini vowed to represent "all member states, each and every one." Russia policy requires a "wise combination" of diplomacy and sanctions, she said. The foreign policy job comes with a seat on the European Commission, which starts a five-year term on Nov. 1.
Power Struggle
Elected to the Italian parliament in 2008, Mogherini sat on the foreign affairs committee. Her promotion to foreign minister came in February after Matteo Renzi won a power struggle within the Democratic Party and became prime minister.
Responding to a question about her youth and thin resume in government, Mogherini pointed out that she is older than Renzi and a number of other prime ministers.
Mogherini's predecessor, Catherine Ashton of Britain, hadn't worked in a foreign ministry when appointed in 2009. A compromise pick after higher-profile figures backed out, Ashton operated in a low-key fashion that fit the EU's ambitions as the economic crisis eroded its global influence. She represented western powers in nuclear negotiations with Iran and brokered reconciliation talks between Serbia and Kosovo.
Ashton was an early intermediary in the Russia-Ukraine crisis, only to be increasingly frozen out as the Kremlin fomented the rebellion in eastern Ukraine and leaders and foreign ministers of Germany, Poland and France took over the European diplomacy.
Before it's here, it's on the Bloomberg Terminal.
LEARN MORE